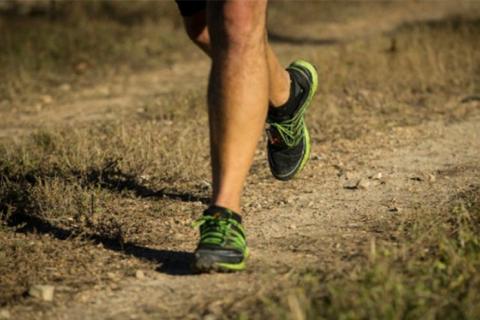 If you're like me, you detest the thought of going to the gym. The only thing that's worse is paying the outrageous monthly fees. I tried this once and felt more guilt than good health from my membership's lack of use. Rural living can make it even more difficult to access a fitness center.  Being an avid outdoorsman, I am proud to say that the nearest elliptical machine is no less than 25 miles away. Regardless of this handicap, I still manage to stay in shape with a few easy, and rather fun, cardio and muscular workouts.



Tip: A little legwork and strength training can pay huge dividends next season, but there's no need for an expensive gym membership to get a great workout.
Stretch Your Limits


First things first: don't forget to stretch. A few simple warm up exercises are enough to get started.  However, for those bold enough to give it a try, I highly suggest yoga.  I explored the art of yoga a few years ago and experienced great results. I was living in Colorado at the time, nothing more than a worthless ski bum. A friend somehow dragged me out of bed and up the street to a room filled with patchouli and dreadlocks at 6 a.m.


What yoga did for my body was fascinating. Staying loose and flexible helped my outdoor activities in so many ways. Getting in and out of duck blinds, deer stands, boats, and trucks suddenly became an easier task.  Holding an awkward pose at the snap of a branch or maneuvering through the briars was much more manageable. If you'd like to give yoga a try, I encourage you to find some online videos. There are plenty of DIY resources available that will allow you to stay within the comfort (and smells!) of your home.


Cardio for the Carnivore


I tend to put cardio workouts before strength training. Whether you plan on climbing the Rockies next season or you simply don't want to huff and puff on the way to the treestand, a little cardio can go a long way. I've also found that getting my heart rate up helps purge the body of beer, pork rinds and other things that tend to make my arms look flabby. Burn the fat, then the muscles will start to appear.


If you don't have mountains to climb or a running track in your backyard, however, you have to get a little inventive. I can't take credit for creating what I call "woods running" because, well, folks have been running through the woods since the beginning of time. But I do use this method of cardio to both stay in shape and keep my hand-eye coordination sharp. Go to the nearest open woodlot or hiking tail and mentally map out a path. Since you are going over uneven terrain, don't just take off blindly.


As you run, remember to keep your body in control (arms in tight, legs directly underneath) and use your eyes wisely. This means finding a medium between the next step and ten feet in front. Stumbling on an unforeseen rock or getting slapped in the face with a cedar bough is never fun. Those things come do come with the territory – like being tackled in football. That said, after a couple weeks, one might feel like Bo Jackson romping up the middle for a long score. Don't be afraid to whoop and holler as you go. Woods running reverts me back to the spirit I had as a young boy.


The Couch Potato Workout


I may put cardio exercises first, but I do understand that strength training is a necessity.  Anyone who has trembled at full draw or dragged a buck from a ravine knows the importance of a strong core and upper body. At night, as I'm lying in front of the TV watching some mindless show, I use the commercial breaks to do push-ups and sit-ups. This is a great way to get started, and gets your rear off the couch.  Begin slowly with reps of ten each per commercial break and build from there. Time and repetition lead to the transformation.


Fuel the Fire


Lastly, I can't say enough about a proper diet. You must properly fuel the machine to keep your body performing at its peak. As hunters and fishermen, many of us eat what we harvest. This is about the healthiest way we can possibly live – off the land. In my next blog, I will explain how we can become our own processor with some simple recipes for the meat in our freezers.


For some more great workout tips checkout these 4 Exercises You Can Do Without a Pricey Gym Membership.