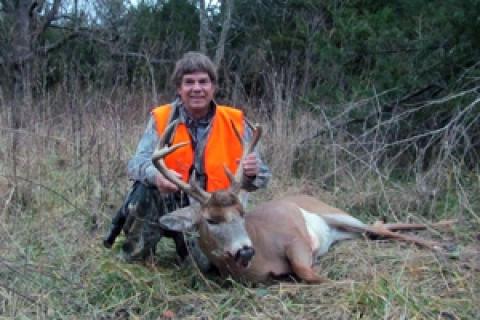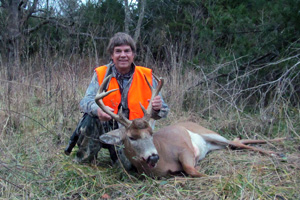 While treestand hunting is generally the best way to tag a trophy whitetail, I was trying the stalk or sneak hunting approach in Virginia's Shenandoah Valley on a recent hunt. I was on private land, but the George Washington National Forest offers hundreds of thousands of acres of public land where you can try the same tactics.


I vowed to spend most of the day ascending one of the steep mountains bordering the Valley, trying to catch a mature buck unaware as I sneaked along.


But so far, I'd seen a crow, a small flock of turkeys, several squirrels, and only one lone doe in the first half mile of sneak hunting. The doe gradually eased out of sight over a knoll, with no buck on her trail.


After the rest my legs got while I watched the doe, I continued the climb, walking several steps, and then pausing next to trees and shrubs to scan ahead. Finally another doe appeared. This one was running, which was a good sign. I suspected a buck was on her trail, and he was.


It was a classic eight point, with long tines, fairly good mass, and about an 18-inch spread. Unfortunately, he didn't pause and give me a clear shot. Later I got one more quick glimpse, but then the pair disappeared over a ridge into a patch of broom sedge.


I tried to relocate them, since they weren't spooked, but I never could. Another doe appeared further up the mountain. Antlerless deer were in season. But I already had taken several during bow season and didn't relish the thought of getting her down out of this rough mountain spot, so I passed on the chance.


I had expected more buck activity and chasing of does, so I was becoming less hopeful as the day wore on. Finally, I decided to call it quits as far as ascending the mountain and hunt my way back down. That way I could save my time and energy for an evening stand hunt. Nothing showed on the way back down.


After a mid-afternoon lunch break, I headed out and settled in to watch an area with cedars, brush, forbs and grasses. Deer sometimes chase there, and I knew the rut was in full swing. I hoped a doe might ease out with a buck on her trail.


Barely an hour of daylight was left when my wish came true. A beautiful doe emerged with a dark gray coat and vivid white throat patch. Then antlers appeared back in the cedars. Soon a deep-chested buck stepped out, shadowing her.
I could tell the deer was mature by the build of its body. It had a deep chest and belly, sway back and Roman nose. The antlers confirmed it was an older deer. The tines were fairly short and the spread was not exceptional, at about 17 or 18 inches. But the mass was very impressive.


This buck had obviously seen many ruts before. Calming my nerves as best I could, I centered the crosshairs and squeezed off. The facing-quartering shot was true, and the buck dropped on the spot.


He was everything I'd hoped for. The buck weighed 170 pounds field-dressed and had eight mainframe points, a 2-inch brow tine kicker and a broken tenth point (G-3) that you could hang a ring on, but not quite an inch long, making him a solid nine pointer. But the mass was what made this buck truly outstanding. Later I scored him at 132 inches gross B&C.


The mountain stalk hunt had been fun, a nice break from sitting on stand, and great exercise. As usually, tough, stand hunting had been the tactic that came through.


And when it came time after pictures and field dressing to haul the deer out, I was glad the buck was in the accessible low part of the Shenandoah Valley instead of perched high on some distant, craggy mountain ridge!