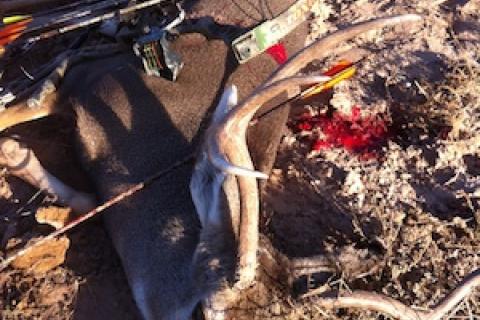 by Shawn F. Cook Sr.
The 2014 archery mule deer season in New Mexico was another cold one at altitude.


There were plenty of does and younger bucks, but the mature bucks were staying up on the slope. This was primarily due to a couple of mountain lions trailing the herd daily. The presence of the predators really had the herd on edge and affected normal travel routes and bedding areas.


I only had three days to hunt, and I was being hampered by a bad back, which took spot and stalk out of the equation. I set up on an escape route going up the slope that I had seen bucks use in the past when they were spooked or pressured.


The plan paid off on opening morning, when a 3x4 came up the draw and passed at 12 yards. The Blackout® Fixed-Blade Broadheads and RedHead® Toxik® XT Compound Bow did their job, and he didn't make it another 50 yards.

Mulies are different in a lot of ways from whitetail, but when it comes to escape plans, they can be predictable. 


Remember: Safety first in all your outdoor adventures …