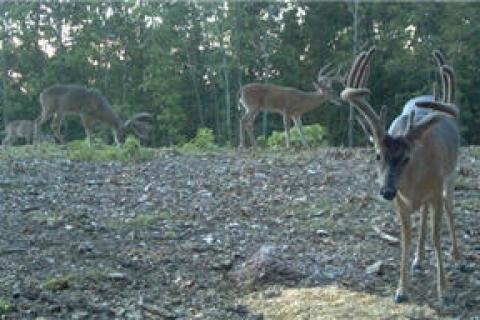 November 16, 2012

As usual, I'm hearing mixed reports about the intensity of the rut from different areas. I've received a BUNCH of email from GrowingDeer.tv fans that have tagged huge bucks in Kansas. Most of these pictures are accompanied by a note describing the intense rut action the hunter observed! Friends from other states are discussing the lack of deer rutting behavior they've observed this week. Mixed reports of rutting behavior from different areas are common each year.
This is because there are many factors that influence the amount of rutting behavior (seeking, cruising, and chasing) that hunters see during daylight. One of the biggest factors that determine how much deer activity hunters observe is the weather.
At my place, located in southern Missouri, I've seen more bucks than normal for this property (at this time of year) out seeking, cruising, and/or chasing the past two days. It seems rutting behavior is more visible during daylight hours this year compared to past years. You can see the bucks (their behavior/my hunting techniques, etc.) I've been watching on November 26th on GrowingDeer.tv.
The temperatures at my place have been in the upper 40's/lower 50's during the day and the upper 20's/lower 30's at night. These temperatures are approximately 10 degrees cooler than normal. That's about perfect to encourage daytime deer activity! These same temperatures in northern parts of the whitetail's range for this week would probably be warm enough to cause deer in that area to be active primarily at night.
It's easy to swap stories with buddies, etc., and get confused about exactly how many bucks you saw and what the conditions were when simply trusting your memory. For years I kept written records of what I saw while hunting. Based on my observations I could adjust my hunting strategies to the current conditions. However, to make use of those observations, I had to enter all of it in a spreadsheet, try to find weather and moon data for those dates, and then work to get all of it in some format that I could understand.
This year I found a much easier and more accurate way to track how many deer I see, the *** ratio, average number of points, and weather and moon data for exactly when I saw the deer! I simply bought ($3.99) the ScoutLook DeerLog app. I always have my smartphone with me while hunting. Just after I see a deer, I simply open the app and enter, using an easy form, the gender, age, and points (if a buck) of the deer I saw. DeerLog then automatically grabs the weather and moon data for my location and that exact time! I've shared just a few lines of the data I collected this morning! I simply made a few strokes on my phone and DeerLog did the rest!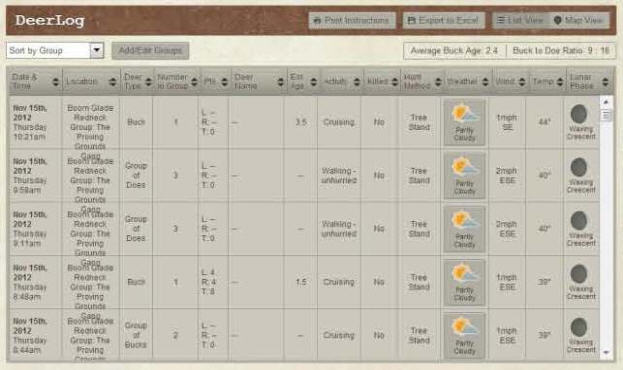 I can keep this information to myself, compare with buddies, etc. I find that by reviewing just a few days of my records, I can predict with great accuracy which stand and when I should be hunting. If the weather conditions are roughly the same next year, I'll know exactly where to hunt or what stage of the rut to be expecting. If the weather conditions are substantially different, I simply compare to my own or a buddy's observations during similar conditions at that time of year. That's a very powerful tool!
I'm headed back to the stand now. I hope I get to record some more observations and a kill! If I punch my tag, I'll share pictures soon.
Growing (and hunting) Deer together,
From GrowingDeer.tv
Grant Woods