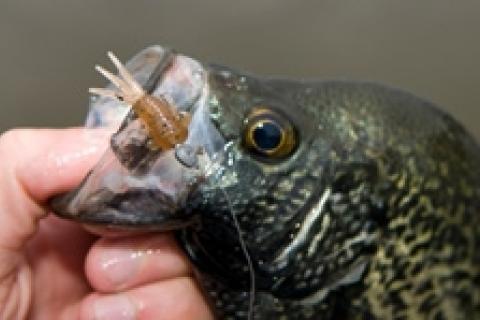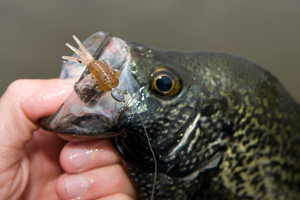 The feel of warm sun on recent outdoor adventures has me pining for some spring crappie adventures. During this time of year, papermouths will go through ups and downs of feeding activity. Some days it seems like they'll eat anything. Other days they're a lot more choosy about their meals. While bait action, profile and water-column positioning are critical factors, color is an important element that can separate good outings from epic ones.
A trip a few years back drove this point home. My friend and I had put a pretty reliable pattern together for the day that involved working undercuts, reeds and lay-downs (i.e., fallen trees). All white and white-pink jigs did the bulk of the damage in the morning. The action was steady but we were puzzled we weren't doing better. (We anglers can be a greedy lot.) We decided to experiment.
I switched to a brown nymph plastic on a 1/16-ounce jig. I dropped the offering over the side of the boat and quickly lost sight of it as it sank in the turbid, brown water. Still, I figured it was worth a shot given the signs of terrestrial and aquatic bug activity we were seeing. I pitched the jig into an opening and it immediately got cracked by a good crappie. A few fish later, our pale colored offerings were all off, and black, brown and olive jigs were tied on. The action picked up significantly once we switched, and the naturally toned baits were much better at coaxing the herd's less aggressive fish to chew.
This spring adventure is just one example when experimenting with color increased the number of crappie I have caught on outings. I recall a summer day when a Rapala Countdown (03) in yellow perch was the golden ticket for seducing suspending slabs to eat. Be aware too that papermouth preferences will change throughout the day. For example, high-vis patterns or glow baits will dramatically increase bites during sunset.
Keep color in mind when chasing crappie. Experiment with lure hues and your success will increase.