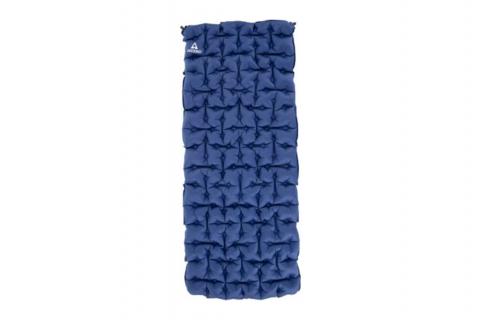 No camper sets out expecting a plush experience. Well, none that have been camping before. Camping isn't meant to be plush, and those who covet the outdoor experience don't expect otherwise. Still, there's no reason to suffer unnecessarily when you don't have to. A sleeping pad is one of the items that will make an evening's rest more comfortable. Pads serve to cushion the hard surface and insulate the sleeper from cold ground.
Several main factors and how you prioritize them will have a major impact on your selection.

Types:
First, consider what type of camping you'll be doing most often. Will you be traveling light and fast on the trail? Camping in the car with family? Setting up base camp during a winter hunt? There are different types of pads that are suited best to certain types of camping.
Closed-Cell Foam – These mats are made of compressed foam that features small pockets of air in the cells of the foam to trap air between your bag and the pad for additional insulation between your warm body and the cold ground. Naturally, thicker closed-cell pads translate into more comfort and insulation. In addition, they're incredibly durable (cannot be popped by twigs or brush), lightweight and oftentimes cheaper. But, the accordion-style folding design means they are bulkier and harder to pack.
Self-Inflating – These incorporate a combination of air and open-cell foam to create a comfortable and supportive sleep surface. Million-hole, open-cell foam is the ultimate when it comes to self-inflating pads. The increased number of holes means that the pad will compress more and also raise more when it's inflated. It also means that you'll have a smaller pad to transport once it is compressed.
To set these pads up, all you have to do is open the valve and air will rush into the tiny spaces in the foam, inflating the pad most of the way. Despite the name, all self-inflating pads will require a few extra breaths to completely inflate.
Self-inflating pads span the gamut from basic to plush, from ultralight backpacker to car camping models that sleep like your mattress at home. They're an excellent middle ground, providing a balance of lighter weight, comfort, durability and insulation. However, ounce for ounce, these mats are heavier than closed-cell-foam mats and air mats because of the heavier-duty fabrics and foam. It also takes a little extra time to pack up.
Air – These inflate with air alone and are incredibly lightweight, making them the best choice for weight-conscious backpackers. Because they pack down small and are so lightweight, you can bring thicker pads for extra cushioning and support. But they can be quite fragile. Sharp sticks or plants with thorns that go unnoticed can puncture a hole in your pad and render it ineffective without that wonderful cushion of air. By taking a repair kit along, you'll at least avoid multiple nights of discomfort and learn to pay more attention to where you lay your head. Another disadvantage is that it takes a while to inflate, especially if you don't want to pack a heavy and bulky pump.
Skeleton Air Pads or Frames – If you want to camp light and fast, this is what you're looking for. The design is very minimal, providing cushioning air chambers only where padding is needed and completely eliminating them where they are not. They look a lot like normal pads but with sections missing. This significantly reduces the amount of material, which means lighter weight and smaller packing. Plus, they inflate with only a few breaths.
R-Value and Insulation:
All sleeping pads provide warmth through insulation usually measured by an R-value. Most numbers range from one to 10 with higher numbers indicating more warmth suited for colder temperatures. A pad with an R-value of 3 is often warm enough for three-season camping and delivers ideal warmth in temperatures between 35˚F and 60˚F. An R-value higher than 5 would be an excellent choice for winter camping. Very few will have an R-value higher than 6. Keep in mind, you can always stack two pads (a self-inflating pad on top of a closed-cell foam pad, for example) to increase the overall warmth and insulation.
Thickness:
Thickness goes hand in hand with a pad's R-value when it comes to warmth. Like the insulation in your house, pads with a greater thickness will do a better job of shielding you from the cold, but the insulation is also dependent upon the amount of air that is trapped as well. Open-cell foam will have much greater insulating benefits compared to closed-cell foam of the same thickness because it traps air that is heated by your body.
Thickness is also a major factor when it comes to comfort.  
1" and Under – Most closed-cell foam pads are under 1" thick and offer minimal cushioning. A slimmer mat would be ideal if you were stacking it with another for optimal warmth in cold conditions.
1.5" – This is a very common thickness for sleeping pads, keeping you close to the ground and creating a very stable platform. Not ideal for side sleepers.
2.5" – This extra thickness adds more insulation between you and the ground, providing both additional warmth and extra cushioning.
3" – Usually found in air pads. This thickness maximizes comfort without sacrificing light weight or packability.
4" and Up – These luxurious thicknesses deliver ample comfort but are very heavy and can be quite bulky. Recommended for car camping.
Size and Shape:
Size and shape greatly affect the level of comfort.
Length – Most sleeping pads are about 72" (6 ft.) in length. If you're taller than that or would like some extra leg room, look for "Large" or "Extra-Large" models, which run about 77" or longer.
Width – Standard mats are about 20" wide. It provides room to sleep but leaves little to no room on the sides. This will be your best bet if you're counting ounces, but if you shift around in your sleep a lot, you'll want to look for "Wide" models. They're usually 25" wide and will offer more than enough room to shift around. There are mats that are wider, and that can be useful if you're of a bigger build or really enjoy extra elbow room. If you're camping with your significant other, you can get a couple's model to save on pack room and weight.
Shape – Most mats are rectangle, resulting in plenty of sleeping area, warmth and comfort. You can find tapered or mummy shapes that will help you save weight if you're backpacking and space if you're sleeping in tight quarters. There are also models made specifically for women that better conform to their shape or for children that are scaled down to match their stature.
Sleeping Surface:
The type of sleeping surface is an important feature to consider. Sleeping bags tend to slip around on a sleeping pad's surface and you can wake in the night to find that your pad has squirted out from under you. Flocked or textured surfaces reduce this problem, but you can now find many with built-in straps that will anchor your bag to the pad. Some sleeping bags even have sleeves for your sleeping pad.
Baffle Construction:
Baffles are often used to distribute weight for maximum comfort or to prevent foam or insulation from shifting and causing cold spots. They're also referred to as chambers or channels.
Horizontal Baffles – Most commonly found in air pads. These horizontal ridges are considered to be the most stable, to help distribute weight and to keep your shoulders spread out when lying down.
Vertical Baffles – These baffles create vertical ridges that run the length of the pad. They are also very stable, especially if you're moving around at night, and stay in line with your sleeping bag better.
Quilted Baffles – Quilted baffles incorporate both horizontal and vertical ridges to form pockets that are very similar to those seen on mattresses. This increases stability, retains more heat and increases comfort.
Unique Baffles – There are many unique baffle constructions made by many different companies. You can find body-mapped constructions, which combine different patterns of baffles to minimize air movement to increase overall warmth. Other unique baffles focus on maximizing comfort by creating a mattress-like feel. You can even find pillow baffles.
Fabrics:
The material a sleeping pad is made of can easily be overlooked, but choosing the right fabric and construction can affect the performance of the mat.
Polyester vs. Nylon – In general, polyester is tougher while nylon is lighter.
Denier – The denier of a fabric refers to how thick or thin each individual fiber is in a fabric. Usually, a higher denier means greater durability.
Ripstop – Ripstop fabrics incorporate a special reinforcing technique that makes them resistant to tears. Look for ripstop material on the top, so the mat can withstand the constant wear and tear.
Heavy Bottom Fabric – In many cases, you'll notice heavier-duty fabric on the bottom. This helps the pad stand up to rocks or brush encountered in the backcountry. Be sure to bring a repair kit just in case.
Other Considerations:
Valves – There are two main types of valves: twist-and-pull and flat. Twist-and-pull are very easy to use and are the most common. Flat valves perform better since they allow you to inflate and deflate pads quickly and they lay flat against the pad to prevent accidental openings. With flat valves, you also have the option to use a pump for inflation.
Smarter Packing – You can use your sleeping pad to insulate cold items and to protect delicate gear while traveling. Frozen game or fish rolled inside a pad will not thaw out for many long hours and things like cameras or lanterns can be protected from damage while traveling to the trailhead.
Life is about compromise. You will have to make the decision about how much you want to give up in terms of comfort to lighten your load, but there is no reason to compromise on quality. If you use a pad often, a few dollars invested in a high-grade pad will pay dividends for many years of nights under the stars.