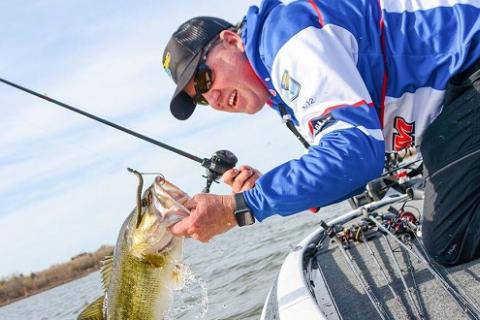 by Dave Landahl

Alton Jones has been hooking bass for money over the last few decades. Jones is a multi-tournament winner including the Bassmaster Classic and the Bassmaster Angler of the Year (AOY). He's got the type of fishing resume that places him among the all-time elite pros.  
At 54, some would make the argument that an athlete needs to start to think about retiring. The great thing about professional bass fishing is that there are no age limits. It is really up to each individual to leave the game when they feel like it. As far as Jones goes, he is still qualifying for the Bassmaster Classic and AOY Championship and is almost always a threat to win any event he fishes.
So, what keeps Jones going after all these years? What drives his love of the game? Think fun, happiness, and faith.
"I believe you need to pursue what you are passionate about and make it your career," said Jones. "Whether that is fishing, being a lawyer, or mowing lawns, you need to make your passion your work.
"I've known many successful business people who are very wealthy, yet they are unhappy. They have the skills to build their business, but they aren't passionate about it. They are not having fun. In turn, they are miserable. To me, happiness is so much more important than money."
Add a big dose of fun, and now the Alton Jones formula for success starts to reveal itself a little more.
"I also like to have fun," said Jones. "I know most people do as well, but I look for things that are fun. When I am not fishing tournaments or doing anything related to the business side of fishing, I still go fishing. I love going to Falcon Lake in southern Texas. It's so much fun and the bass are big. I also like to fish for smallies up north. Whether thats Lake Champlain or the Great Lakes. Those are very high on the fun meter.
"Whatever you do in life, you need to enjoy yourself."
Competition and faith are the final pieces of the Jones formula for success as a pro basser.
"I believe that the Lord creates us all for a purpose," said Jones. "I believe I was created to do what I am doing. Give in and let the Lord show you what your purpose is in life. I believe that if you don't find the purpose God gave you in life, you won't find happiness.
"I planned for the future so I could financially retire, but competition still drives me. I feel good out there and I still perform at a high level. This is definitely the platform the Lord gave me.
"Fishing is the plan for me. Now, of course, I'd rather finish first every time, but clearly my plan and the Lord's don't always line up."