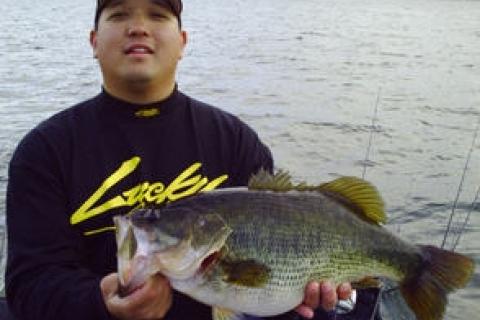 It's mid- to late winter for most of us around the United States. Those of you who live close to the oceans, or in the South, are cold but not frozen. And the bass fishing can still be good if you take the time to change your tactics and change your thinking.


I've been fishing a jerkbait in the cold since I first saw a Lucky Craft in Seattle, Wash., back in 1997. I was just a teenager in a local B.A.S.S. NATION club. My team partner handed me a Lucky Craft Staysee 90 in Aurora Black, one of only two he had. I had never heard of Lucky Craft before. Well, we traveled to eastern Washington and the next day won a 22-boat tournament with 18.80 lbs of smallmouth in early March (water temps in the high 30s). This was the first day I had ever used a Lucky Craft, and we just slow cranked it on 8-lb Berkley Trilene (don't laugh, we were just kids) because we didn't realize it was a jerkbait. Haha!


Well since then, I've expanded my knowledge of jerkbait fishing to say the least. One of the recent trends I've seen work all over the country is to remember that when the jerkbait is working good, most likely the Alabama Rig is catching fish, as well. This is because both lures target the same fish … fish that are suspending over structure in open water.


I can't tell you how many times in the past three years that I've done this, and it works almost every time: When everyone is jerkbaiting, I'll break out my Picasso Bait Ball Extreme (7 arms, 16 baits) and out-fish others fishing the same areas as I am.


Or the opposite has happened. I've been on Table Rock and everyone and their grandma was throwing an Alabama Rig, and I broke out the trusty Lucky Craft Flash Pointer SP 115 (or the size 100 if I need to finesse for bites). And I can catch more fish on the jerkbait when everyone else is focusing on the Big Rig.


Good luck to you this winter fishing season, and hopefully you learned a valuable tip today. If you tie on that jerkbait, you better tie on the Alabama Rig just in case! This combo won't disappoint you!


Good luck and God bless,
James Smiley