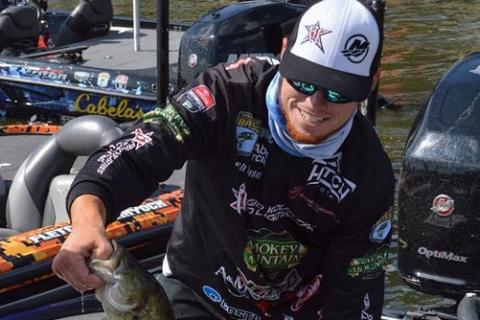 by Pros4- 1Source's Dave Landahl
Sure, it's still early in the 2017 Bassmaster Elite Series campaign, but Josh Bertrand is off on the right foot and not currently in need of digging out of any holes. After the first two events of the season, the Pure Fishing pro sits in the number 3 spot of the Angler of the Year (AOY) race. Stay in the Top 35 or so, and you claim a coveted berth into the Bassmaster Classic. Of course it's early, but the AOY title itself is there to win as well.
So, what does a seasoned pro do during his time off before the next Elite Series event? Why, he answers Three Questions from Pros4- 1Source, that's what he does.
DL - What country would you like to visit for a fishing trip that you've never been to before?
JB - I'd love to go to Brazil and fish the Amazon River for peacock bass. I've never caught one before, but they look awesome. Plus, I've never been to that part of the world either.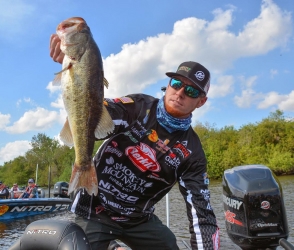 I'd like to take one of those houseboat trips where they tow the bass boats with them. I know people go out in kayaks, but I feel like I'd hurt myself trying to land one.
Those fish seem like they would really be fun to catch and test my equipment with, a true test of the gear I use.
DL - You have to choose one reality show to participate in. Dancing with the Stars or Celebrity Wife Swap, which one?
JB - I hate to say it, but it would have to be Wife Swap. I'm such a terrible, terrible dancer. I hate it. I'm so bad at dancing, I'd rather be on Naked and Afraid than dance on live television.
I seriously couldn't handle the embarrassment when people saw how bad of a dancer I am. I have no musicality at all.
DL - Do you prefer steak or desserts?
JB - After a long day on the water fishing, I think a steak is what I would crave. The protein, the heartiness of it. It's what I would need to refuel my body.
I think eating a bowl of ice cream would feel horrendous afterward.
Now, I like sweets, but something about the steak is so satisfying, especially after a long day on the water. For me, you can't beat a good ribeye.