by Pros4- 1Source's Dave Landahl

Abu Garcia pro Mike Iaconelli is a fan of fishing for bass any time of the year. The former Bassmaster Classic champ and Angler of the Year is known for his prowess for finding bass under any condition.
So, it's fitting, since its springtime, Iaconelli shares some of his secrets for finding and catching bass during the spring.

Now, the terrific thing about Iaconelli's take on catching spring bass is that it's basic because you are only targeting secondary points to locate fish. But wait, what are secondary points in the mind of a champ like Mike?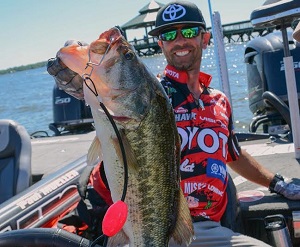 "During the spring there is a lot of movement for  the bass," said Iaconelli. "Lots of transitional spots to find them. They are either on their way in to spawn or on their way out after spawning.
"I like to find secondary points because bass will hold there on the way in and out of spawning areas. These spots will often reload with fish in the spring.
"The key here is that they are not just physical points. It's a much broader term in my mind, but all the same theory. These spots are essentially locations about half way back into a spawning area. They can be visible points, an underwater point, a large submerged tree, a big dock, anything really.
"I look for these along the breakline that bass will usually use like a highway to follow back to the spawning areas. Where the breakline touches the secondary point areas is usually a prime spot in the spring to find bass and catch multiple big bass."
So, once these secondary points are located, Iaconelli usually uses three approaches to initiate his assault on his quarry. Crankbaits, jigs and Carolina rigs.
Crankbaits.
"When I'm practicing for a tournament and I'm fishing secondary points, I will often start casting crankbaits," said Iaconelli. "I'll have four or five different rods rigged with the same crankbait, but different models for different depths. Like a Rapala DT 6, 10, 14 and 20.
"With these, I know I will be covering the depths I need. I like to choose the crankbait that runs just a hair deeper than the depth of the bottom. This way I not only get bites, but I can feel the bottom and the potential sweet spots there."
Jig.
"For me, the jig is another perfect bait to fish secondary points," said Iaconelli. "It is great for searching the bottom and transmitting what is there. Sand, muck, rock, etc.
"I've been using the Missile Baits Head Banger Jig. It is a football style jig and it's ideal to grind along the bottom. Now, you don't always get hit hard fishing a jig along the bottom like you do with a swim jig, but it's like you almost guess something happened or it feels a little weird. Then you set the hook.
"I don't think I've fished over the last 15 years in a tournament without a jig tied on."
Carolina rig.
"There has been a resurgence of the old Carolina rig in my fishing," said Iaconelli. "The old ball and chain. It's becoming a staple again for me.
"The difference now is that with the tungsten sinkers, the Carolina rig is not as difficult to cast out there and is more subtle. I use a 3/8 or 1/2 ounce barrel weight, a swivel and a plastic bead. I used glass when we had lead weights, but the tungsten breaks the glass.
"In dirtier water, I use a 12-to 14-inch leader. In clearer water, I'll use an 18-to 24-inch leader. I use a main line that is fluorocarbon and the leader is usually the next size down in line. My favorite soft plastic for this application is a 6-inch Green Pumpkin Berkley Powerbait Lizard. As basic as it gets. This is an efficient and fast technique for catching bass in the spring and it is usable at a variety of depths."