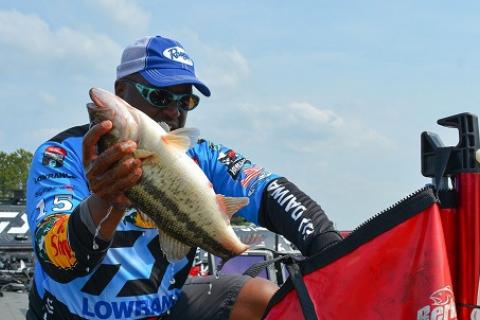 by Dave Landahl. The weather outside ain't frightful, and the heat of the summer can be delightful...especially for bass fishing buffs. Bass start to set up in areas you can generally find them throughout the rest of the year until the fall.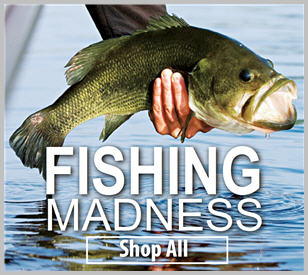 Of course, bass locations vary from lake to lake, river to river etc. In some bodies of water where bass are not the primary predator species, you can find them in shallow cover like pad fields, docks, grass, etc. throughout the summer. Other locations bass will hold on include deeper ledges, drop-offs, sunken humps, river bends and other deep cover.

Regardless of where you fish, you will likely find fish in both deep and shallow cover depending on a whole host of variables.
So, what are some of the pros' favorite methods for catching summertime bass? Larry Nixon, Keith Combs, Ish Monroe, JT Kenney and Jimmy Houston shared their favorite ways to bust hot-weather bass with BassFIRST.com. Check it out.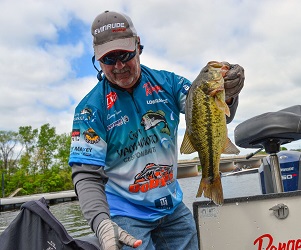 Larry Nixon
"I like to fish deep ledges," said Nixon. "I'll use a Carolina-rigged Senko. I do this mainly because I can catch a lot of fish out of one spot without running all over the lake."
Keith Combs
"Deeper cranking with a Strike King 6XD," said Combs. "I focus on any submerged irregularities I can find that have bait. I like the crankbait because it can imitate bait and also draw a reaction strike."
Ish Monroe
"Topwater," said Monroe. "The bites are explosive and you can catch big fish!"
JT Kenney
"Early summer, it's deep cranking," said Kenney. "In late summer, it's a topwater."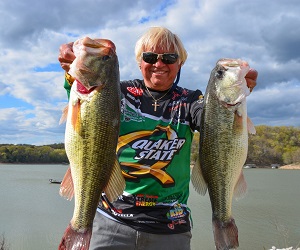 Jimmy Houston
"If you have any grass where you are fishing, a lot of the bigger bass will get in the inside of the grass lines," said Houston. "I like to use a small square bill crankbait like an RC1 or RC2 by Luck E Strike, or an American Original Shallow Smoothy, made right here in America!
"I don't crank the bait, but just cast beyond the inside line of grass a foot or so and dance the bait on top of the water near the inside line.
"Crawfish or bluegill colors work best. I like the Red Ear color in the Shallow Smoothy. It really works great while bluegill are spawning. You'll catch some really big bass!"