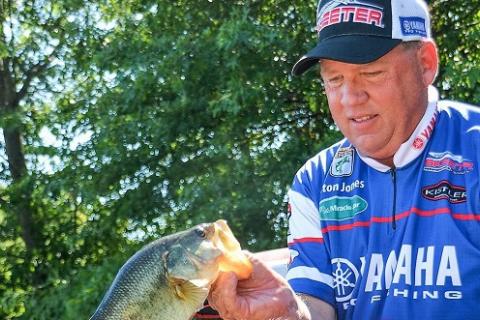 by Pros4- 1Source's Dave Landahl 
Former Bassmaster Classic champ Alton Jones recently finished the 2016 Elite Series season. He had a solid year finishing 15th overall in the Angler of the Year race and qualified for the prestigious Bassmaster Classic.


So, what will Alton be doing during the fall? Sure, there's hunting and housework, but the bass are still biting, too.


Jones shared his favorite approaches for bagging a few bass when the leaves are changing colors.


Up Top

"I really enjoy fishing the Heddon Super Spook Jr.," said Jones. "Even though it isn't the big Spook, it's still a pretty big topwater. In many places where the shad spawned in the spring, they are about the size of the Spook Jr. in the fall.  It
really is a good imitation of the baitfish.


"I like to fish it along shallow banks where the bass are often feeding on the shad. This is really a good approach especially if you fish highland reservoirs. It can produce big bites.


"For color choice, I use nickel on sunny days and bone on cloudy days."


Pitch Jigs

"I fish a lot of jigs in the fall," said Jones. "I prefer a 3/8-ounce Booyah jig in either green pumpkin or black and blue. The trailer is a 2.75 Yum Chunk in a matching color.


"They are really effective during the mid-to-late fall when the lake is turning over. The bass usually get in a funk, but if you go way up into the back end of creeks the bass are not impacted as much and will bite. I look for steep banks with rocks or wood. Any cover really. Just get far back into that creek.


"One key thing to do to the jig is trim the skirt. I want it more compact. I will trim off the skirt at the bottom bend of the hook."


Little Squarebills
"You've got to get a few Bandit 100 crankbaits," said Jones. "It's a little squarebill. I usually use a chartreuse with a blue back. I love it. It's effective even if the water is stained where you can only see down 6 inches or so.


"Fish it parallel with the bank. It is a bait you need to commit yourself to fish. Lots of times in the fall, bass need a reaction bait to trigger them and this little crankbait really does it."