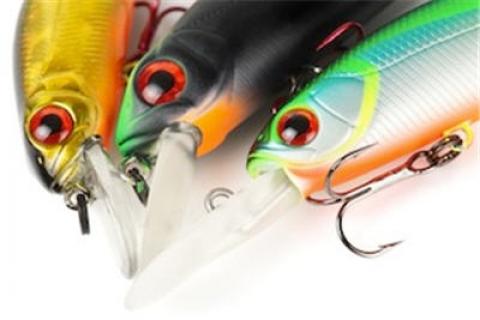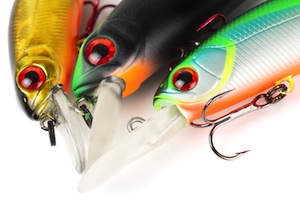 If you watch the trends of fishing lure production, you will see certain hot colors trending from season to season. Understanding when to choose those colors is the key. The ability to select proper colors throughout the season depends on what type of forage you are trying to imitate. It's simple: If you can match what the fish want, then you will catch more fish. When talking about bass, while sometimes they will eat anything that comes near them, there are a few standby forage options that they will target throughout the year. These forage options are shad and bluegill, and this is what I will try and imitate the majority of the time.


Bass Like to Eat Shad
Shad are a perfect food for a bass; they have no spikes, they are soft and tender, and they group up in big schools known as shad balls. So they are easy to eat, easy to digest and the fact that they group up in schools makes them easy to target. Shad are generally silver or transparent color with a hint of blue or green on their back.


Most bass across the country will eat shad all year long to some extent, but there are key time periods when shad become number one on the menu. Throughout the late spring and early summer, the shad will periodically spawn. At this time, they move extremely shallow in large numbers, and the bass absolutely gorge themselves on this easy-to-find meal.


Throughout the summer and winter months, the majority of the shad will suspend, and while bass still eat them, they are harder to target in this open water scenario. When fall hits, the shad again move shallow into pockets and flats in the backs of creeks, and this, again, is a time when shad-colored baits will work best.


When the shad are in their suspended mode, there is no better way to catch them then on an umbrella rig such as the Bass Pro Shops Deadly 5 Flashy Times. The swim baits I choose are always in a shad color; the Bass Pro Shops Sassy Sally and the Boss Shads are two of my favorite options, again in shad colors.


Now during the shad spawn, I like to use fast-moving shad imitations such as Stanley swim jigs, Stanley spinner baits, chatterbaits and BPS swim baits.


In the fall of the year, shallow-running crank baits such as the Spro Little John in either a Nasty Shad or a Spooky Nasty Shad are always on the front deck of my boat.


Always keep track of what the shad are doing based on the time of year, and select one of the baits I talked about in a shad-imitation color, and you will have some great days on the water fooling the bass.


Bass Like to Eat Bluegill
Another major food source throughout the year is bluegill. On any given lake, there is a population of bass that will live shallow basically all year long, never moving out into the deep water. The reason these residential shallow fish are able to do this is because bluegill spend the majority of the year in shallow water. There is one really key time when almost everything I target is bluegill related; that is from early to mid summer, when the bluegill are spawning. I don't know what it is about them, but for some reason, the big fish in that time period seem to want to eat bluegill. For a shallow-water angler, this is the forage that they are generally trying to imitate, not just in the summer but throughout the year, and it can be done in a variety of different ways with some certain colors that really shine.


One of the very best presentations to imitate a bluegill is by flipping soft plastics to shallow-water cover such as docks, grass and fallen trees. When I'm flipping shallow cover with soft plastics, I always use Bass Pro Shops Tournament Series baits. One of my favorites is the Bass Pro Shops River Bug. They are offered in a variety of different colors that imitate a bluegill such as watermelon bluegill, okeechobee craw or their new color and one of my personal favorites, sprayed grass.


Another bluegill imitator is the Bass Pro Shops Magnum Flipping Tube. My color choice for the tube bait is generally a smoke purple blue flake or a melon seed/blue flake.


With either the tube or the river bug, I rig them on a 4/0 Gamakatsu Flipping Hook with a pegged 1/4-1/2 ounce BPS Tungsten Flipping weight.


One other little tip is dipping the tail of your bait in Chartreuse to imitate the little chartreuse on the tip of a bluegill's tail. I believe at certain times, this will get you a few extra bites.


If soft plastics aren't your thing, then a jig with a soft plastic trailer will also work very well.


Other moving baits such as square bill crankbaits, swim baits and swim jigs in bluegill colors can be very effective when reaction baits are shining.


Always remember: Bass will eat almost anything that looks like an opportunity to get a meal, and if bass got as big as sharks, we would all be in trouble. By selecting colors that imitate shad and bluegill, you can rest assured that you are always offering something that the bass are used to seeing as food on a daily bases in their natural environment, and this will help you put more fish in your boat.


For more articles, you can like my JoeyFishing page on Facebook or check out my website at www.joeyfishing.com. I'll see you on the water!!!