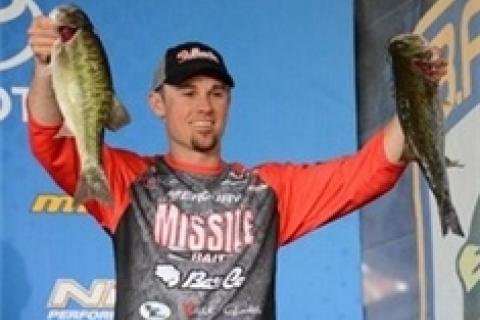 As summertime approaches, many anglers are prepping for the vacation season. Bass busters are planning to dredge their favorite deep-water haunts in hopes of finding an expansive school of over-sized bucketmouths or smallies. Depending on where you live, spotted bass can be part of the scenario.
    
Missile Baits pro and Bassmaster Elite Series winner John Crews suggests adding a skinny option to your deep-water arsenal.
"I love summer bass fishing," said Crews. "Most places you fish for them in the country, you can target either shallow or deep and have success. Sometimes both in the same day."
Crews keeps his arsenal fairly concise during the summer months. Essentially four rod and reel combos are what he uses. All of his rod and reels are made by Pinnacle. He spools up with Vicious brand lines.
For flipping, Crews uses a 7-foot 6-inch rod and 20-pound fluorocarbon. For frog fishing, he prefers a 7-foot heavy action casting rod with 65-pound braid.
Deep water fishing consists of a 7-foot 8-inch crankbait rod with 12-pound fluorocarbon and a 7-foot 2-inch spinning rod and 8-pound fluorocarbon.
"When I am targeting shallow fish I generally use a couple of baits," said Crews. "When I am flipping or pitching, I use a bream-shaped lure like the Missile D Bomb. Any color that is similar to the local bream works well. I also will fish the heavily matted weeds with a SPRO Bronzeye Frog 65.
    
"The best shallow cover is anything thick, especially if it is close to deep water. Laydowns, milfoil, lily pads, whatever you fishery has to offer.
"For deeper fishing, I love cranking hard-bottom areas. My only deep-diving crankbait now is a SPRO Little John DD. My other option is a smaller plastic like a Missile Baits Fuse or similar smaller worm. I fish it on a shaky head or a drop-shot rig. I will fish big plastic worms, too, but it's tough to beat a small plastic worm for producing fish, especially fishing during a high pressure day."
Story by: Dave Landahl, OutdoorsFIRST Media