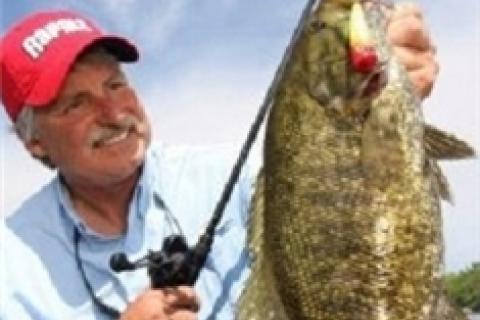 Pop post-spawn bronzebacks on top!
Bed fishing smallmouths is a blast, but for the adrenaline junky in all of us, nothing beats the rush of busting beefy bronzebacks on topwater poppers. This big-fish, post-spawn pattern is guaranteed to make your heart skip a few beats, and it's happening now on lakes, rivers and reservoirs across the Bronze Belt.
Minnesota bassin' ace Scott Bonnema knows the drill. Decades of chasing smallies across the continent have taught him the finer points of the popping program, including key locations, killer baits and winning presentations.
"It's a classic situation," says Bonnema, whose tournament travels crisscross the northern half of smallmouth territory each season. "After smallmouths leave the beds, you can catch numbers of smaller fish near the bank, in depths of 3 to 8 feet, on a variety of presentations."
Windmilling 2-pounders is fun, but bigger bites await a bit deeper. "Groups of larger fish stage in the 10- to 14-foot zone," he explains. "They feed aggressively, and when the surface is calm, topwater poppers are a fun and effective way to target them."
To tap the bite, Bonnema looks for structural complexes rich in rock and gravel, lying just outside the spawning grounds. "I look for humps, points and islands connected to shore, up to a quarter mile out," he says.
 
A good sonar and GPS combo is key to finding prime post-spawn structure, and for pinpointing sweet spots such as fish-holding irregularities. While traditional down-looking sonar aids the search, Bonnema believes new side-imaging options really lift the curtain on what lies beneath the waves.

"I use Humminbird's Side Imaging, and have found it a priceless tool for surveying structure and mapping out plans of attack," he says. "I can scrutinize rock formations in incredible detail, and create tracks following the outline of the structure. One of my favorite features, though, is the ability to locate and create waypoints for boulders that stand out from the rocks around them."
He explains that rocks ranging from football-size up to Volkswagen proportions all attract bass, but individual rocks that are larger than the prevailing rubble can be dynamite. "Picture a suitcase-size boulder surrounded by footballs," he says. "Even though smallmouths may be roaming an entire reef, they're instinctively drawn to the larger object, and often use it as an ambush point."
When his side-scanning sonar reveals one of these super-sized treasures, Bonnema simply slides the display's cursor over it and marks a waypoint for future exploitation.
While it's a time-consuming process, thorough recon can pay big dividends for years to come. "The rocks aren't going anywhere, which means prime areas can produce smallmouths season after season," he says.
To keep structure straight for the long haul, he recommends marking it with appropriate icons. "Use a fish, skull and crossbones, whatever helps you remember something about the spot. I mark really good areas with the first-aid icon, because I know I can go there and get healthy in a hurry."
GPS breadcrumbs guide his final approach and boat positioning. "Using the directional arrow on my GPS, I can idle within casting range of a key boulder or group of rocks, without ever running over the fish," he says.
Taking the process a step further, he notes that Minn Kota's new i-Pilot Link system-available on the Terrova or PowerDrive V2-makes the trolling motor, Humminbird sonar and LakeMaster digital GPS map collaborate to steer whatever course you desire. "Being able to focus on fishing while your electronics handle the boat is amazing," he says.
No matter how you chart your course, stealth is important to avoid spooking skittish smallies. "Keep your distance and fire long casts," he cautions.
Gear-wise, Bonnema wields a 7-foot, medium-power Lew's Tournament Speed Stick, paired with a matching Speed Spool low-profile casting reel. Monofilament line gets the nod, thanks to its buoyancy. "Fluorocarbon sinks, dragging the popper down and ruining the action," he explains. "I like 12-pound Sufix ProMix, but Siege and Elite are top options, too."
On the business end of the line, a loop knot tethers his topwater. "With a loop, the lure moves freely, and spins a little when you pop it, creating just the right splash," he says. "You lose that with a tightly cinched connection."
There are poppers aplenty, but Bonnema favors baits that produce an enticing combination of gurgle and spray, like the 2.75-inch Rapala X-Rap Pop or 3.5-inch Skitter Pop, in shades of silver, gold and chrome. "Natural finishes work wonders, but sometimes the bass want something a little different," he says. "When that happens, the X-Rap clown pattern is a good bet."
The presentation is straightforward-though not without its tricks. For example, pops and pauses beat continuous popping. To pop like a pro, make a long cast over the target area. Let the bait sit until the ripples fade away, then give it a couple quick 6-inch pops, imparted by sharp, sideways twitches of the rodtip. Pause again for five to 10 seconds, add another pop or two, and repeat.
Ultimately, the ideal number of pops and duration of pauses depends on the whims of the bass at the moment. "Experiment to find the right cadence," Bonnema advises. "Keep in mind that when it comes to pauses, patience equals bigger fish."
When you get it right, explosive strikes are the reward. Which brings up another pivotal point in the process-setting the hook.
"Strikes are startling, and your first reaction is to rear back and set the hook," he begins. "But that's a good way to lose the fish. Instead, when a bass blows up on your popper, lower your rodtip toward the fish, reel as quickly as you can to take up slack, and don't set the hook until you feel the weight of the fish."
If a bass misses the popper, it's likely trying to tell you something's not quite right with your presentation. "There was something it didn't like," Bonnema explains. "Make slight adjustments with lure color and size until the bass get your bait in their mouths."
If you can't seal the deal despite such tweaks, it's possible the bass just aren't in the mood for dinner on the ceiling. "Think positive-at least you know they're down there," Bonnema offers. "Throwing something different, like an X-Rap XR10 jerkbait, can light them on fire." Indeed, the twitch-pause of a slender, suspending slashbait is also deadly on post-spawn smallies, but that's a story for another fine summer day.