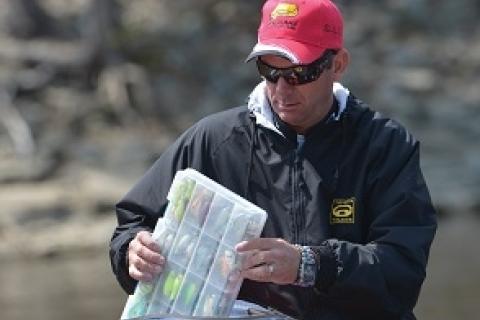 Submitted by Plano
Plano, IL  – Life is full of last-minute decisions. Like when your buddy calls live from the lake and says the bite's on. Be here. Now!
Your dilemma is not whether or not you'll meet him at the dock, but rather what tackle you'll take. What… to… take…
Tackle totes are scattered throughout your boat's storage compartments. It would be cumbersome and overkill to gather them all. Besides, you only need a few choice baits to show your buddy who is boss.
Of course you make the best decision possible and grab your new Plano® Elite™ Kevin VanDam Signature Series Bag from the shelf and promptly pack it with everything you need, and then some.
"Plano's new 4870-40 Elite series bag is the perfect size for the angler on the go, who needs everything yet doesn't want to tote a luggage-size tackle bag around," says four-time Bassmaster Classic champion and seven-time B.A.S.S. Angler of the Year Kevin VanDam. "It's medium in sized, fits well on a garage shelf, yet can be filled with every essential piece of tackle no matter what type of fishing you do."
The Elite Kevin VanDam Signature Series Bag is more than just a canvas to wrap plastic totes in – it's a tackle and gear storage and travel system without a millimeter of wasted space.
The over-built-for-the-price unit comes pre-packed with five 3750 ProLatch™ StowAway® utility boxes perfect for loading with lures of most any size and shape. It sports four zippered pockets, three external pockets and multiple interior pockets perfect or sunglasses, scent, tools. You name it.  
The padded shoulder strap and handle are comfortable for the angler ever on the go. And the bottom of this well-built Elite bag is made of molded material to keep it in place on the deck of any boat and dock, as well waterproof when sitting it down on wet days. "It's a tough tackle-toting system. I wouldn't allow my name on it if it weren't," adds VanDam. Sporting the signature of the world's most esteemed angler, the Elite KVD Bag retails for just $99.99.
Whether you get that last-minute call, are about to take a fly-in fishing trip into the Bush or just want a tackle storage system for everyday angling, look no further than Plano's new Elite Kevin VanDam Signature Series Bag. It's perfect in dimension and practicality and will fulfill every angler's need.

PLANO FISHING
A tradition of excellence. Owning a Plano® tackle box has become a heritage that has endured for more than half a century. In 1952, Plano introduced the first molded plastic tackle box. For the next fifty years, the Plano brand found its way into the hearts and hands of four generations. Today, there's a 4 in 5 chance that if you own a tackle box, it was made by Plano. There are many reasons why consumers choose Plano, including quality, durability and innovation, but our favorite is "It's what my dad always used."