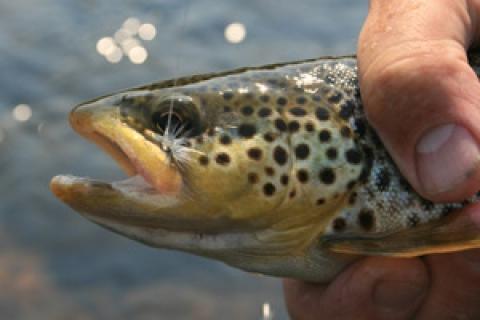 The mercury in the thermometer has swollen to nearly reach the 100-degree mark, and the sun is bearing down unmercifully as you stand by the river's edge. Your annual fly-fishing vacation is underway, but you're faced with high heat, mandatory stream closures by the state's fish department and uncooperative trout. Even more discouraging, you've driven half-way across America to go fly fishing. Now what do you do?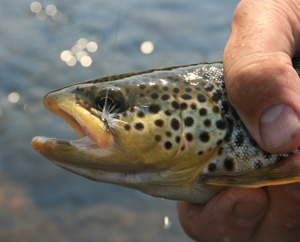 When temperatures rise, state fish departments take quick action to protect trout so have a backup plan if you plan a trip during the heat of the summer.
There are several ways to beat the heat when pursuing summer trout. Try heading upstream to higher altitudes and you'll find cooler waters. Fish during the early morning hours while avoiding the midday. If you're flexible with your plans, you could try heading to another watershed. Yes, you can still fly fish in many areas on hot summer days. The fish are there, and they've adapted. So must you.


Stopping Angler Action When Temperatures Soar
When temperatures rise, state fish departments take quick action to protect the trout, an important economic asset for many leading vacation destinations in the West. In addition to requiring the release of chilling, deep-bottom lake water to cool river temperatures, states also restrict angler actions that could cause undue stress on trout. Stream closures have become a given in recent years, and Montana — one of the nation's most popular fly fishing destinations — seems to lead the way in restricting or stopping angler action when temperatures soar.  


Montana and other popular fishing destination states have often closed major, well-known rivers during the hot summer days — and at the peak of the vacationing angler period. Outfitters, guides and fishing clients made plans months ago, but now the rules have changed. And while widely recognized rivers like the Firehole, Madison, Gallatin, Yellowstone, Big Hole and others were closed to anglers this summer, many other waters were open at higher altitudes. Among them were the headwaters in Yellowstone Park and on the Gallatin River.


To get the most up-to-date details and to make or alter your angling plans, visit websites that provide details of the area you'll visit. Yellowstone and Grand Teton national parks have websites that cover closed — and open — areas during high-heat periods. You can also call the fisheries department headquarters or regional offices in most states. As a last resort, contact guides and outfitters in the region, but note that details can change while you are en route to the region.  


As a general rule, higher elevations mean smaller streams and cooler water temperatures. Exposure to warm air and sunlight heats water, and high water temperatures stress trout. Mountain springs near the headwaters seep or pour forth very cold water, which means ideal conditions for fish. The ideal trout temperatures are from 50 to 65 degrees Fahrenheit. Anything much warmer — and for extended periods — often means floating fish that will never bite again or sluggish, barely-surviving fish that will not bite anything anytime soon. And if your pocket thermometer indicates the water has reached 70 degrees, do everyone a favor and leave the fish alone.


Water temperatures, however, also play an important role in helping you discover where trout might be lurking. If temperatures become too warm, fish migrate or head to the bottom of the deepest pools. Take the temperature reading in several areas to get an understanding of the BIG picture.


Fish Early, Fish Late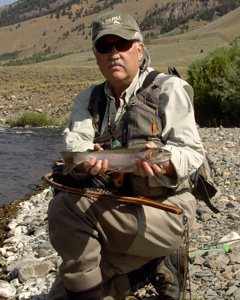 Higher elevations mean smaller streams and cooler water temperatures.
For the rivers that are open during summer months, some have restrictions on available angling hours. For example, allowing angling from 5 a.m. to 2 p.m. seems to be the norm. (Ok, so you wanted to sleep in late on your vacation. You also wanted to catch trout, didn't you?) Rise early and fish furiously.


The break of dawn is also the feeding hour for many trout on summer days. Spent Tricos falling back to the water surface cause fish in much of North America to start feeding. Blue-wing olives can also be spotted with other mayflies on a local basis.


Lower temperatures, as well as shade or subdued lighting, can also mean that big browns are still on the prowl — and catchable. Bright, overhead sunlight can make trout easier noticed by predators like ospreys and eagles, so the fish head into cover. Go to the waters early, and walk about 30 minutes along the river to scout for food sources and feeding fish before you start casting.  


Remember also that after the morning's chill is chased and replaced by rapidly warming air, grasshoppers become active. One thing that can make any hot summer day in the West more bearable is the hopper season — or what the local's call "hoppertunity." When clouds of hoppers flutter up from the grasses along a body of water, skip lunch and start fishing. You have limited time and lots of water to cover after tying on a hopper pattern.  


On many waters, the last hour of the day can mean furious trout feeding action. You'll need to be in a favorite pool of water or standing by an inviting stretch of river or stream to witness this phenomenon. Late day feeding can be the essence of summer fly fishing — and catching. Record high temperature readings cannot suppress the summer lifecycle of most aquatic based insects. Discover the players and take advantage of the look-alike flies.


Dress for the Temps
In addition to searching for colder water to find active trout, you owe it to yourself to stay cool. Remember the well-known angler tenet: the more comfortable you are, the longer you're likely to be active and casting.


In your efforts to remain cool, consider wet wading. Don short pants and your regular wading boots worn over thick socks. Let the cooler water work for you. And if you absolutely must have something between you and the water, wear lightweight, breathable fishing waders.


Other optional gear is a mesh fly fishing vest or even better, a fly fishing chest pack. Just be sure to wear a breathable shirt, possibly with a vented back.


Remember; the trout exist, but the rules have changed when summer temperatures soar. You must adapt if you want to hook and land a trout. Good luck!