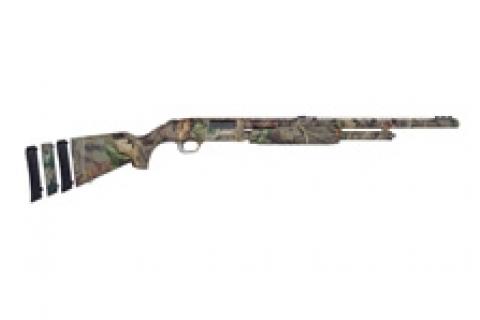 Ah, youth. Today is a great time to be a kid; opportunities and focus are directed towards our youth. Youth seasons are timed to allow young hunters the opportunity to hunt during prime times and at reduced rates so money doesn't become an issue of keeping a kid from hunting. This keeps them interested in shooting and the outdoors.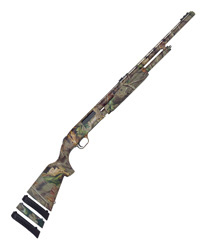 The Mossberg 500 Super Bantam 20-gauge Turkey Shotgun has recoil pad spacers that can be installed as the shooter grows.
There is no shortage of youth-sized gear including: clothing, boots, bows and firearms. Firearm manufacturers have opened the flood gates with products for youth hunters with no fewer than four companies producing firearms made to fit a growing youth. Let's examine a few of the youth-sized products.
Weatherby offers an entry-level firearm, yet there's nothing beginner about it. The Vanguard Series 2 Synthetic Youth combines the proven Vanguard action with a 20-inch barrel and includes an injection-molded composite stock which features a removable elongated spacer to adjust length of pull (12 1/2" to 13 5/8"). The Weatherby Vanguard Series 2 Synthetic Youth is available in .223 Remington, 22-250 Remington, 243 Winchester, 7-mm 08 Remington and 308 Winchester and like all Weatherby Vanguard Series 2 rifles it is guaranteed to shoot a 3-shot group of .99" or less at 100 yards.
Remington has thrown away the playbook when it comes to youth products and offers a full arsenal of youth-sized firearms. The Model 700 SPS Buckmasters Edition "Young Bucks" Compact features all the features of a grown-up 700, sized for young shooters. Remington's Compact line of firearms features an adjustable length of pull stock.
Not to be outdone, Mossberg offers the Bantam Series in their ever popular 500 series shotgun chambered in both .410 and 20 gauge and the ATR rifles. These pint-sized guns are known as the Bantam and the Super Bantam. The Bantam stock has a 12-inch length of pull and the Super Bantam has spacers cleverly disguised as recoil pads. Hint: They are recoil pads, which can be installed as the shooter grows.
Like many young shooters, I cut my teeth on a break-open, single-barrel shotgun. These are still very popular for many first time shooters and are very straightforward — open the breech, pop a shell into the barrel, close the barrel, cock the hammer and shoot.
H&R 1871 offers several models, including a youth rifle called the Handi-Rifle Compact, chambered in 243 Winchester and the 7mm-08 Remington. Their shotguns, also known as, the Topper Compact, are made in .410 and 20 gauge. Both the Handi-Rifle and the Topper Compact offer a scaled down version of the larger gun with a shorter length of pull on the stock and a shorter barrel. The newest H&R Pardner is a pump shotgun, which is available in a youth sized stock and features a 21-inch barrel chambered in 20 gauge.
I never would have imagined the youth market that has been created for the future of shooting, but am glad I didn't miss this trend. I'm jealous of today's young shooters and I hope their passion never dwindles.