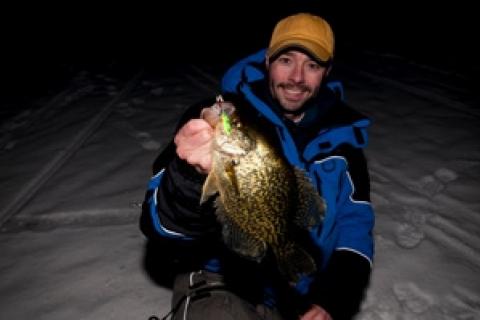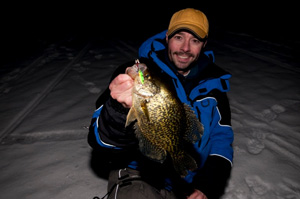 Some of the most consistent crappie action I experience on clear-water lakes occurs at twilight. Tiny zooplankton start the dance as daylight wanes, and soon the entire food chain is in a feeding frenzy. Crappie that were reluctant during the day, turn ravenous in low light conditions. Try these tips to catch more and bigger witching-hour fish.
Get a Light
A light is critical for monitoring a spring bobber or a float for a hit, not to mention being able to safely walk around in the dark and tie on lures. A headlamp gives you light where you need it, while leaving both hands free for hauling in fish. Lanterns are good too.
Fish Aggressive with Big Baits

When crappie are aggressive and feeding at twilight, I first try to catch them with big baits. Darters, jigging minnows, rattling spoons and 1.5-inch plastic minnows are some of my favorites. Save small, snack-sized jigs as a follow-up tactic, and use them only after the sonar display reveals that fish are reluctant to chomp larger lures. Bigger baits have the added bonus of helping bypass smaller fish in the school to get the attention of slabs.
Release Tools at the Ready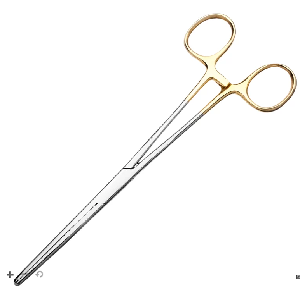 Have a pair of forceps or hemostats easily accessible for prompt hook removal. I keep mine clipped on the pocket of my bib pants. Fast hook
removal equates to more fishing time, which boosts the number of crappie you'll catch.
Get Glowing
From tiny jigs to big lures, I regularly wet glow-painted presentations at twilight. There are different schools of thought on the importance of glow for attracting and triggering fish. I believe a luminescent finish makes a difference, especially with fussy fish.
Use Bait
Minnows, maggots, waxies and worms are all viable options for tipping lures and jigs. Bait is often touted as a solution for getting fickle crappie to bite, but it's effective too for speeding up hits from neutral to active mood fish. Re-bait often to keep the scent trail flowing. If tackle shops are low on the Real McCoy, stock-up on scent-infused soft-bait and micro plastics.