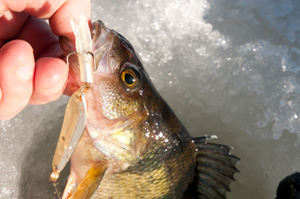 In an earlier blog entry I discussed using feather trebles to modify lures. Of course, feathers work well when added to spoon hooks for ice fishing, but in this entry I want to share a similar adjustment involving a plastic tube. The following is an excellent alternative for live bait tipping and works wonders to trigger strikes thanks to the extra action the tube add-on provides. This approach can work with a variety of lures, but one of my favorites is a jigging spoon.
To modify a spoon, remove the treble hook using split ring pliers. Next, cut off the nose from a one to two inch tube jig — you'll want to match up the size of the tube to that of the lure and hook. Trim the tube body so that it's long enough to cover the hook shank but not the hook eye. After adjusting the length, insert the hook eye into the tube cavity so the tentacles hang downward. Reattach the hook to the lure. Voila! You have just amplified the fish-catching characteristics of the lure.
I prefer thin tubes for this modification as they deliver better tentacle undulation and action compared to ones made of thick plastic. Pull apart any tentacles that are stuck together or weren't completely separated by the manufacturer. Another benefit of the rigging is it lets you experiment with multi-colored baits depending on the tube you choose. Pearl, chartreuse, pink and grey have been good hues during my hard-water outings. I also use salt or scent-laden tubes whenever possible to stimulate the olfactory senses of Mr Fins.
Using a dressed hook will bolster a bait's visual appeal. Give the above tube trick a try — you'll like the results.