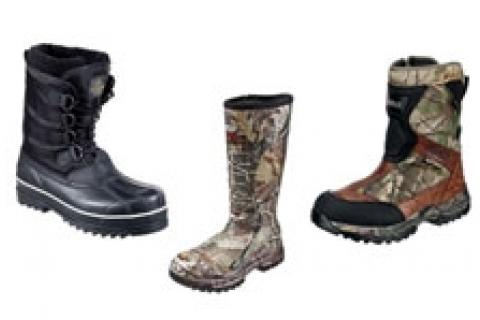 Nothing will ruin an ice fishing trip faster than cold feet. Luckily for anglers there are plenty of choices to keep one's toes toasty in a range of winter conditions. The following is a rundown of footwear options and things to consider when buying boots.
Pac Boots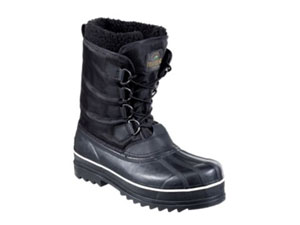 Choose a pac boot that goes as high up the calf as possible.
This style of boot is extremely popular for ice anglers. Pac boots feature a waterproof base and rubber outsole to keep feet dry. This is a must-have characteristic in any ice boot as drilling ice holes and walking in wet snow and slush will threaten to soak feet. In a pac boot design, the rubber base attaches to a heavy-duty nylon, leather or other material to form the upper portion of the boot. When buying pac boots for ice fishing, choose a pair with coverage up to the calf to ensure plenty of protection and insulation in thick snow. A gaiter at the top of the upper is a handy feature too to seal out snow and the elements.
Fastening systems for pac boots include laces, buckles, zippers or a combination of these securing mechanisms. A nice thing about buckles and zippers is that they're easy to close while wearing gloves or mitts. Many pac boots also feature removable liners, a useful design that can speed up drying time, a bonus if you tend to go on multi-day trips.
Pac boot styles vary. Focus your search to models geared for extreme cold and outdoor recreation activities, steer clear of products targeted for urban trekking as they may not provide adequate insulation or traction on ice. Some examples of pac boots include The Sorel Alpha Trac 16" Waterproof Insulated Buckle Pac Boot or RedHead Glacier Pac Boots. Pac boot prices vary depending on brand and quantity of insulation, but $80 to $100 is the starting point for a pair that will perform in most ice fishing scenarios.
Insulated Hunting Boots
Although primarily designed for hunting, this category of boot crosses over extremely well as ice fishing footwear. There are many options to choose from within this category but here are a few highlights for hard-water pursuits.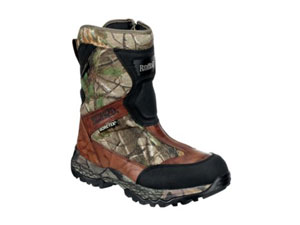 Insulated hunting boots can easily crossover as ice fishing boots.
For starters, the lacing systems, support design, and streamlined fit make hunting boots extremely well suited for anglers who do a lot of walking. If you drill dozens of holes and hole-hop all day, you'll appreciate the snug, supported fit of hunting boots. Another bonus is that most big-game or extreme-cold models will feature aggressive treads for excellent on-ice traction, not to mention ample insulation.
High-end hunting boots feature breathable, waterproof membranes, such as Gore-Tex, for superior moisture control and protection from precipitation to keep feet dry. Hunting boots come in different heights; for ice fishing purposes consider 8-inches a starting point, but 15-inches or greater will deliver more insulation and greater protection in deep snow.
Ruggedness is another strength of hunting boots. Excluding an accidental caress with an auger blade, there are few bumps or knocks in ice fishing that a quality pair of hunting boots can't handle. Prices vary significantly in this category but for a well-constructed pair with adequate insulation, buyers should consider budgeting $150 to $250. Samples of ice-fishing hunting boot candidates include the RedHead Ultra Hunter 16'' Side-Zip GORE-TEX(r) Waterproof Insulated Hunting Boots, or Irish Setter Grizzly Tracker Waterproof 1000 Gram Thinsulate(tm) Insulated Hunting Boots.
Insulated Rubber Boots
As their name suggests, insulated rubber boots feature an all rubber exterior. Beyond affordability, the main advantage of these boots is they are waterproof the entire height of the boot. This feature is a must-have during mild spells or at late ice when several inches of water and slush will form on top of the ice. As a result many anglers own at least one pair of insulated rubber boots for extremely wet and mild weather to supplement their pac or hunting boots, which are reserved for more frigid conditions.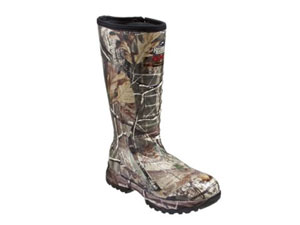 Rubber boots do well keeping water, ice and snow off the feet, but do little to keep them warm.
There are tradeoffs to full-rubber, however. They don't provide the same degree of support or warmth that hunting and pac boots will. Another downside is they offer very little breathability. This can lead to sweat and moisture build-up, damp socks and eventually cause cold feet for some individuals. Quality insulated rubber boots start around $70. Consider hunting models, like RedHead 800 Gram Thinsulate 16" Side Zip Rubber Boots, to ensure adequate durability.
Insulation Considerations
Pac, hunting, and insulated rubber boots come in a range of insulation options. Shortlist products branded for "extreme cold" to ensure adequate insulation for ice fishing. Also, some manufacturers will list the amount of insulation in a boot. As an example, The RedHead 16'' Side-Zip Guide Insulated Hunting Boots have 1600 gram Thinsulate Ultra Insulation. Other companies assign a cold weather rating as a guideline, which can contain a liner that is comfort rated to a certain negative degrees Fahrenheit. While this type of data is helpful, it's important to realize that these are merely guidelines. How warm your feet will be is based on your activity level, how much you perspire, your exposure time, the outside temperature and windchill, the quality of socks you're wearing, how good your circulation is, and other factors.
Other Considerations
Investing in a quality pair of insulated pac, hunting or rubber boots is a step forward to warm, comfortable feet when ice fishing. This said, here are a few other considerations to get the best performance from your footwear.
Wear quality mid- to heavy-weight hiking or hunting socks for extra insulation as well as padding to prevent blisters.
Outfit boots with a pair of ice cleats or other outdoor traction product for enhanced grip and to prevent slips during icy conditions. Yaktrax XTR Extreme Outdoor Traction is one example of such products.
Consider using foot warmers or ThermaCELL Heated Rechargeable Insoles to bolster heat during extreme cold.
Thoroughly dry boots and liners after each outing for the best performance on the next trip. A product like the Peet Boot Dryer makes quick work of this task.
Follow the footwear's care and maintenance instructions to maximize the lifespan of your investment.