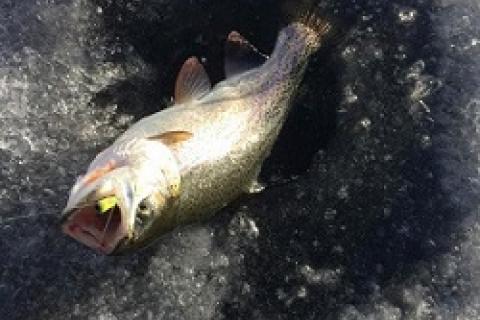 Trout provide fine ice fishing action across the North, but in many areas of the country, large, deep lakes don't develop a trustworthy coating of ice until well after Christmas. Good news is, opportunities abound to enjoy fast action on smaller, quick-freezing lakes guaranteed to deliver a welcome dose of holiday cheer.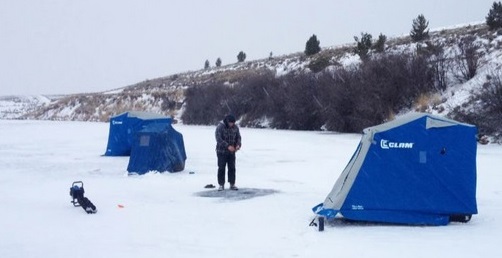 "In Colorado, our big, high-mountain lakes generally don't freeze until Christmas and this year, because of high water levels, they might not be passable until after New Years," reports veteran Rocky Mountain trout guide Bernie Keefe.


Based in the high-altitude nirvana of Granby, Colorado, Keefe connects clients with lakers, browns, rainbows, brookies and kokanee salmon on lakes of all sizes throughout the year. But right now, he focuses on small systems offering walkable ice and healthy populations of hungry trout, and his tactics apply to trout fans coast to coast.


"Lakes ranging from 100 to 500 acres in size are ideal because you can easily cover them on foot," he says.


Pre-trip scouting begins at state fisheries department websites, which often offer detailed information on fish numbers and sizes, along with helpful hydrographic maps. Keep in mind, lakes with relatively simple structure are easier to search than those with multiple reefs, points and other trout-attracting features


Once he sets his crosshairs on a potential hotspot, Keefe gears up with a lightweight yet potent supply of tackle including several 28-inch, medium-action Clam Jason Mitchell Series Meat Sticks spooled with 4-pound-test Berkley Trilene XL monofilament line. A small tackle box houses a selection of dainty jigs, spoons and swimming hardbaits, while a bait puck loaded with waxworms supplies the tippings.


Carefully testing the ice with a spud bar as he goes, Keefe ventures out in search of prime lies such as shoreline points and lush green weedbeds. "The inside edge of the weeds is typically hot right now, but open pockets are always worth checking, too," he says, noting that thin ice and clear water often enable visual recon without chipping or drilling.


Since trout frequent depths of five to 15 feet of water this time of year, sight-fishing is a great way to get a handle on the underwater world. "A pair of holes 30 inches apart make it easy to watch two lines at a time," he says. "I chip them out with my spud bar and pop up my Clam portable on top of 'em."


In one hole, Keefe wields an active jigging presentation, which draws curious trout and often triggers strikes. "An 1/8-ounce Clam Blade Spoon tipped with a waxworm or two is perfect for the job," he says. "Drop it to bottom or the top of the weeds, and then slowly reel it back toward the surface, shaking it as you go. When you reach the ice, reverse the process and backreel the spoon back down."


Swimming hardbaits are also deadly on early-winter trout.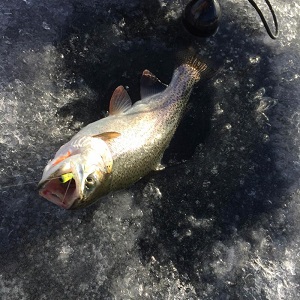 While spoons are a stellar option, swimming hardbaits such as Clam's Psycho Shad are also deadly weapons for luring in winter trout. After a strike or two, Keefe focuses his efforts on the depth at which the trout hit. "It tells me the level at which the fish are cruising," he explains.


His second hole holds a deadstick presentation. "A 1/16-ounce marabou jig is tough to beat," he says. "But a Clam Half Ant can be dynamite when trout are keying on a horizontal bait." Deadstick tippings consist of two or three waxies threaded onto the hook so they dangle temptingly while oozing scent into the surrounding water.


 If trout are cruising the area, it usually doesn't take long for fish to move in and check out Keefe's wares. "If nothing shows up within half an hour, I pull up stakes and move on," he says.


Keefe's small-lake pattern holds water well into January, when dying shoreline weeds push trout into deeper water offshore. "The same tactics apply, you just have to walk our farther to find the fish," he notes. Until the migration begins, however, the shallow-water shoreline bite is a great way to put a mixed bag of tasty trout on ice.


Pros4- 1Source with Rocky Mountain trout guide Bernie Keefe