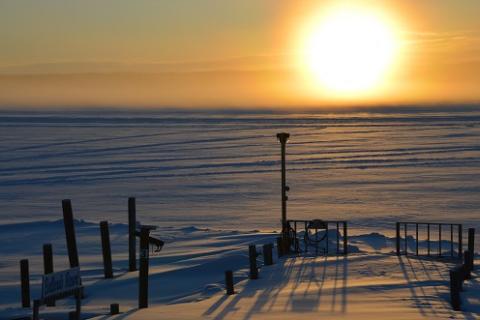 Walleye are one of the most sought after gamefish during winter months, however, many people new to ice fishing seem to struggle to find these elusive fish. Most walleye tend to hold patterns somewhat similar to what is observed during the late fall which can make them fairly predictable. The "What, When, Where, and Why" factors of chasing walleye through the ice can be easy to overthink, so it is best to keep things simple and adjust presentations accordingly.


It really doesn't matter what you drop down the hole if you aren't targeting the right areas to begin with. Generally speaking walleye will hold to the same structure as they would during fall months during early ice. Slight drop-offs, sandy or rocky flats, green weed beds, and hard structure anywhere from 8 to 15 feet deep are great places to start. Although these fish can be caught throughout most of the day, by far the most productive time is from about an hour before sunset through dark. Walleyes generally tend to move into shallower water in pursuit of baitfish, and most of the larger fish seem to be caught closer to dark or even after dark.


Your ability to cover water and different depths is key to locating active fish. In this game, the more holes you have staggered at different depths the more thorough you can search an area for fish. Don't be afraid to hole-hop often as fish will generally move during feeding windows. If local regulations allow for multiple lines per angler, placing tip-ups at different depths while moving around jigging is another great way to help find active fish. This way you are able to cover a whole lot of water with minimal effort.


Keeping things simple is probably the best way to figure out winter walleye. With so many different choices of spoons, jigs, and profile baits on the market, choosing only a few to work with can be pretty tough. Here are a few walleye essentials that have stood the test of time, and every ice angler should carry in their arsenal.


Northland Buckshot Spoons

Northland Buckshot Spoons are a great finesse jigging lure with a slender profile and a loud rattle chamber. They can be fished straight out of the package, but are also very effective when rigged with wax worms, minnow heads, or even scented soft plastics. Sizes range from 1/16, 1/8, 1/4, 3/8, 1/2, and 3/4 ounce models.


Custom Jigs and Spins Slender Spoons

The Custom Jigs and Spins Slender Spoon offers a super flashy presentation with a great fluttering action. They are best fished slow and like the Buck Shot Spoons can be tipped with a minnow head or other assorted small additions. Due to the slender profile and how light these spoons are, it is best to go light on the added attractants to maintain a decent action. Slender Spoons are available in 1/16, 1/8, 1/4, and 5/16 ounce models.
Vibrations Tackle Echotail Blade Baits

The Ice Series of Echotail by Vibrations Tackle is an excellent lure for hole-hopping and locating fish. They give off a tremendous amount of vibration and can be fished both fast and slow. The barbed tail section allows for the angler to switch tails (anything from plastics to live bait) to tune the lure to the bite. The action can also be changed by changing the attachment point on the top of the lure with any of the 5 holes. The Ice Series is available in 1/10, 3/16, 3/8, 1/4, and 1/2 ounce models.
Rapala Jigging Rap

Rapala Jigging Raps are a classic choice for walleye under the ice. With a baitfish profile, tons of hooking potential, and a darting/spiraling action, they are an excellent choice when searching for hungry walleye. Jigging Raps are available in 1/8, 3/16, 5/16, 5/8, and 7/8 ounce models.
Something to keep in mind is the size and profile of the lures you choose. Sometimes bigger isn't always better so keeping your lures sizes somewhere towards the "middle" (3/16 to 5/8 ounce) is a good place to be. You can always catch bigger fish on smaller lures, but you can't always catch smaller fish on larger lures. Colors, as with open water, can also be critical to success. The same rules tend to apply to fishing under the ice as far as color selection is concerned. In clear water more natural colors (silvers, golds, greens, blues, and forage patterns) are usually a safe bet. In tannic or dirty water brighter colors (yellows, oranges, glow patterns, white, chartreuse) can be the way to go. Switch things up until you start getting some attention.


A quality jigging rod is key to detecting strikes and fighting fish under the ice. Something with larger guides which help prevent ice buildup, a sensitive and sturdy rod blank, and a comfortable and compact handle are the makings for a great walleye ice rod. The Fenwick Elite Tech ice series is an excellent choice in the 27", medium power model. A lightweight spinning reel such as the Pflueger President in size 20 (6920 X) spooled with 6lb Berkley Trilene Fireline Crystal Ice is hard to beat. The no stretch quality of the line provides almost instant feedback from the lure while also helping to transmit bites quickly through the rod.


Marine Electronics can be especially helpful in figuring out the proper jigging cadence. Sometimes the fish seem to prefer a lure that is barely moving, when other times they want something fast and erratic. By watching a flasher you'll know when a fish is approaching your lure. If they swim away without touching it, then try changing up your jigging action, or just speeding up/slowing down. If you are fishing without electronics, just switch up your cadences every few minutes until you start getting some action. Also, don't be afraid to switch lures and colors until you find something that works. Once you get a pattern going, the action can be fast and furious, and is some of the most fun you can have on the ice. So, what are you waiting for! Get out there and go put the hurt on some winter walleye!


By Pros4- 1Source's Noah Humfeld