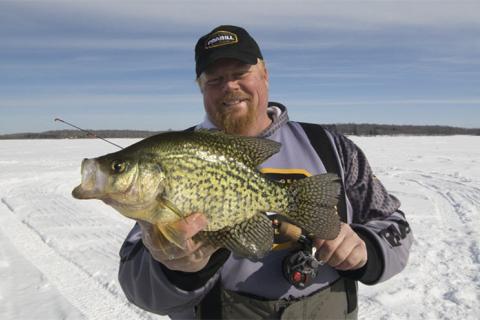 Brian "Bro" Brosdahl of Max, Minnesota spends most winter days ice fishing. With decades of hard-water guiding experience under his belt - or should we say Frabill bibs - Bro has seen it all. While known for creating innovative gear and jigging presentations, Brosdahl says one of the easiest ways anglers can have more enjoyable and fish-filled ice outings is to stop making common mistakes. Here are 10 bad ice-fishing habits to shut-down this season.


1. No Self-Rescue Options
"I meet so many people on the ice that don't have ice safety picks, or they're not wearing them in a place where they can get them if they need to self rescue," Brosdahl said.


Breaking this bad habit could save your life one day. Ice picks retail for under $10. Wear them within easy reach and keep them accessible. The Frabill pro also suggests anglers consider the new I-Float Suit. The I-Float jacket is a U.S. Coast Guard Certified PFD. It also features self-draining mesh and - like all of Frabill's I-Suit Series - includes ice picks with designated holsters, so spikes are always within reach. These and other I-Float features aid an angler in performing a self-rescue in the event of falling through the ice.



TIP: The Frabill® I-Float Jacket becomes more than just peace of mind—it can be a lifesaver - LINK
Check out this quick video from the Minnesota DNR demonstrating how to use ice safety picks for self rescue.
2. Not Wearing Gloves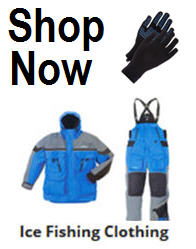 Let's face it, holding a rod bare-handed results in excellent sensitivity. But, the downside is cold winter air dries skin, causing it to crack, not to mention making hands cold.


"After a while it takes its toll. Wear your gloves and use the sensitivity of a good rod tip and lighter line to catch fish."


3. Leaving Ice-Hole "Volcanoes"
Drilling a hole creates a mound of ice shards and slush. These "volcanoes," as Brosdahl calls them, should be kicked down and leveled before they freeze over.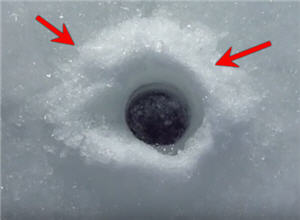 Leaving volcanoes around your best ice fishing spot is like putting up neon signs reading: "Fish Here!" Knocking them down protects the area. It's not about being secretive. Okay, it is a little bit, but more importantly it's about being a steward to the lake and not exposing fragile spots for others to plunder.


Frozen snow volcanoes also turn a lake into a moonscape. They make ATV and snow machine travel rough, unpredictable, and dangerous.


4. Drilling Too Many Ice Holes
"Drill till you have enough to catch fish, don't over-drill," Brosdahl said. "With today's technology and precision drilling, you can get on a spot with just a few holes."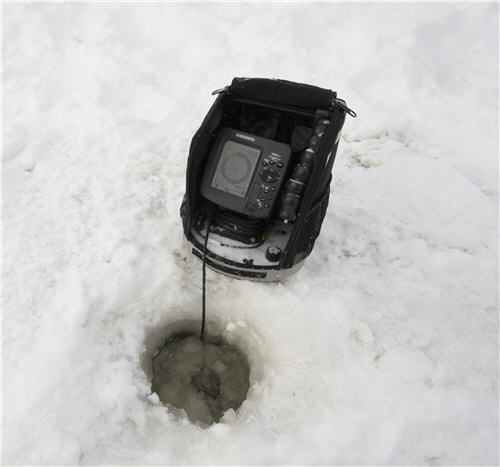 Slushy holes limit light penetration below and are less likely to spook fish than clean ones. photo credit Tim Allard
Brosdahl's referring to products like a LakeMaster Digital GPS Map teamed with his Humminbird Helix 7. LakeMaster's super-detailed maps make it easy to navigate to prime spots, such as contour bends, ledges, holes, bars, and mid-lake humps. Then an angler only needs to drill a few holes to dissect the high-percentage area.


5. Slush-less Ice Holes
Over-cleaning an ice hole is another faux pas. Brosdahl advises the opposite.


"Leave slush in because it stops light penetration," he said. "Light penetration scares fish; it's a spotlight staring down the hole that spooks them."


There are exceptions. Such as cleaning slush in order to see and land a fish using a gaff. A less slushy hole is handy when sight-fishing. Just don't overdo the housekeeping.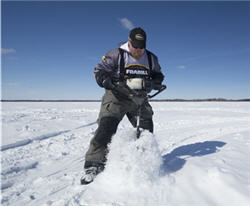 Brosdahl removes his Frabill I-Float jacket when drilling holes to regulate temperature and prevent overheating. photo credit Tim Allard

6. Overdressing
Today's ice-fishing outerwear is technical and very warm. Being overdressed during strenuous physical activity leads to overheating and sweating. This is bad.


"You don't want to be sliding out of your suit from wetness and then sit down and fish, because that's when the cold creeps in," Brosdahl said.


The solution's dressing in layers and removing clothing when active. Opening outerwear vents to let heat escape is another way to regulate temperature.


7. Leaving Ice Auger Blades Exposed
"Uncovered augers are a super big no-no," Brosdahl said. "There's an amazing number of people that have accidents with augers that could have been prevented. All they needed to do was keep the cover on. It's got a razor sharp blade, folks. Cover it up anytime you're not drilling."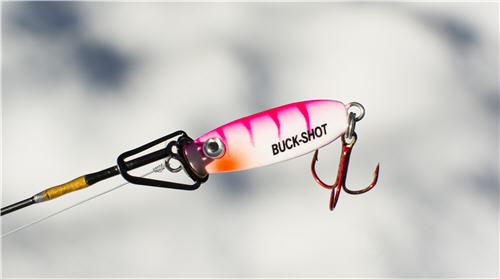 Reeling a lure into the rod tip is dangerous and can damage the guide. Use the rod's hook keeper instead. photo credit Tim Allard

8. Reeling Lures to the Rod Tip
Considering the Frabill Bro Series Ice Fishing rods and ice rod combos are his signature series, it's no surprise gear mistreatment is one of Brosdahl's pet peeves. Case in point, reeling a lure, hook, swivel or anything else that isn't line into the rod tip guide. Doing so can damage the guide's insert. This can require rod repair or result in a lost fish from the damaged guide weakening fishing line.


Let's not forget, too, that a hook-clad lure swinging on a rod tip is an accident waiting to happen. Solution: use the rod's hook keeper.


9. Littering
"Leave a place the way you find it," Brosdahl said. "Leave it clean. Leave it like you don't want someone to find your secret hole. Trash takes away from the experience for everyone."


Pack out what your bring on the ice. It's that simple


10. Being Secretive, Let Someone Know Where You're Fishing
"There are some anglers that are too secretive about trying to find the next big one," Brosdahl said. "If you don't want to tell your buddies where you're fishing, tell a spouse. Someone should always know where you're fishing."


It takes five minutes to write an itinerary, listing: the water body, the access point, names and phone numbers for fishing party members and a rough timeline of the trip. This small task will pay big dividends in the unlikely event of a bad situation arising on the outing.


Take the time, leave a note.