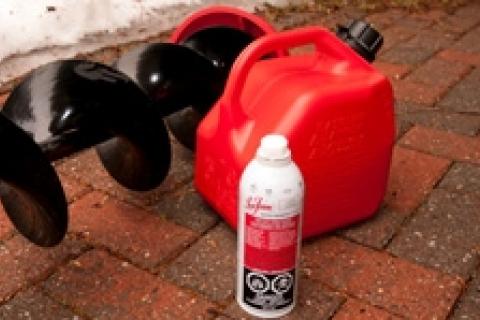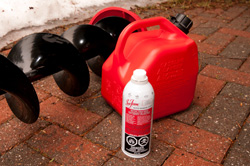 Before you switch gears from ice to open-water, it's worth while to service, clean, and inventory gear before storing it until next season. Here is a run down of common tasks.
Give your auger some TLC. Inspect the entire assembly for damage. Perform engine maintenance and storage duties (e.g., add fuel stabilizer and run the engine for 10 minutes so treated fuel reaches the carburetor). If repairs are required, order replacement parts for a DIY fix. Or take it in for service now to beat the pre-ice rush next season. Cover the power head to keep dust and dirt out of the engine. An auger should be dry before storage to prevent rust.


Audit electronics and remove batteries from any handheld GPS units and headlamps, and disconnect the battery to your portable ice sonar (charge it occasionally to keep its level topped up). Inspect sonar wires for cuts, kinks and other damage. Replace worn parts.


Dry and air out a portable ice shelter before storing to prevent mildew and mold from growing on the fabric. Repair damages and empty contents. Keep the shelter in a pest-free zone during the off season.


Store tip-ups horizontally in a cool place; low-temp lubricant can leak out of certain models if stored vertically.


Clean and service reels. Strip off old line to reduce spooling time next season.


Check rods for damage; repair and replace as needed.


Inspect bait management gear: minnow pail, dip nets, maggot pucks, etc.


Inventory and organize tackle, remove line or soft-bait left on lures and replace worn or damaged hooks. Place tackle trays and other odds and ends in large totes to keep everything in one place.


Inspect outerwear, sewing tears or buying new apparel to fill-in for worn-out items. Clean outerwear and dry before storage.


Don't forget about footwear. Treat leather and other materials as needed. Replace boot insoles and laces, if required.


Make a list of equipment and tackle to buy while prepping items for storage. This eliminates surprises when unpacking gear for next year. It also makes it easy to pick up items on sale and save money.