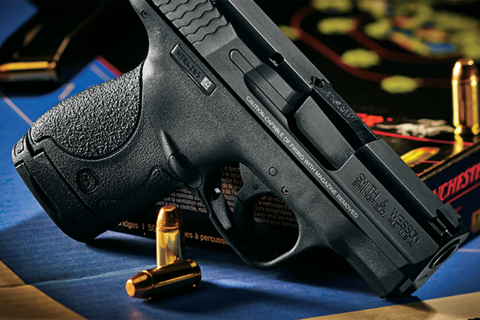 Don't let the size of the M&P Shield fool you. It may be slim and trim, but it's as functional as a full-sized M&P. Between its surprising power and incredible shootability, it's no wonder this pistol excels as a concealed-carry or a law-enforcement backup gun. But the best part about the Shield is its extensive ability to be customized. Smith & Wesson has partnered with many industry-leading companies to create a whole host of top-notch accessories – many just for the M&P – that allow you to enhance a variety of features, from the front sight to the magazine and nearly everything between. The result: a highly personalized pistol that feels completely natural in your hand.
WHAT YOU CAN UPGRADE
Lasers – While not the first accessory that comes to mind for a concealed-carry firearm, lasers are an important tool to ensure you stay on target if a stressful situation should arise. They're also very helpful when practicing target acquisition. Featuring products from LaserLyte®, Crimson Trace® and more, the Shield's line of compatible lasers fit seamlessly into the profile without sacrificing the pistol's slim size.
Sights – Your sights must be easy to see and offer an excellent sight picture in order to be effective. Compatible sights for the Shield feature products from TruGlo®, Dead Ringer and more. They provide quick front-sight acquisition in all lighting conditions, even low-light situations, which makes them ideal for concealed carry.
Holsters – Depending on your needs, you can select a holster that is not only comfortable but easy to conceal. These carry styles included IWB, ankle, shoulder and other products from companies such as BLACKHAWK!®, Pistol Wear™, Galco and more.
Spare Magazines – No pistol would be complete without a couple extra magazines, and the M&P is no exception. Compatible magazines are available in your choice of 9mm or .40 S&W. In addition, each is available in standard capacity as well as the plus-one extended magazine.
These products increase the Shield's effectiveness without overwhelming its small stature. And while this isn't a comprehensive list, it still shows the extent to which you can tailor this pistol to meet your preferences. Whichever upgrades you choose, you can be sure your M&P Shield will be a one-of-a-kind concealed-carry firearm.