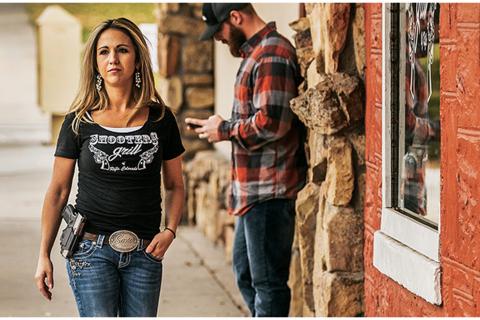 By Tom McHale
WHAT CAN YOU LEARN WHEN YOU CARRY EVERYDAY?
A whole lot, it turns out.
Reflecting on my experiences carrying a gun for nearly two decades, I figured out that I've learned a couple of things. Here's a short list:
1. HOW CLUELESS THE AVERAGE PERSON IS.
I don't mean this in an offensive way at all – I mean it quite literally. When you first start carrying, you manage to convince yourself that every person you see in public will spot your gun. After a couple of weeks, you begin to realize that people are far more immersed in their phones than your appearance. The folks that do make eye contact with you almost never look for telltale bulges around your waist.
2. HOW QUICKLY ANTI-GUN FOLKS CAN CHANGE THEIR VIEWS, AT LEAST TEMPORARILY.
My wife was out for dinner one night with some friends, some of whom are decidedly anti-gun and can't understand why someone would carry. Walking to the car after dinner, the group noticed a couple of suspicious characters hanging around a dark corner of the parking lot. Looking to my wife, the group asked the same question – "You do have your gun with you, right?" Moral of the story: everyone loves a sheepdog.
3. THE VALUE OF A GOOD BELT.
Physical fitness starts with a strong core. A skyscraper requires a deep foundation. Carrying a gun safely and securely requires a proper belt. A quality gun belt, like the Galco SB-2, will hold the weight of your gun, keep it close to your body, and prevent the holster from flopping around due to belt flex. If you're having trouble with a holster, make sure you've got a proper belt underneath.
4. THE VALUE OF A GOOD HOLSTER.
Once you have a solid foundation with a proper belt, you need to continue building on that with equal quality. A good holster does three things:
1.A holster helps you access your gun quickly, easily, and safely. It will hold your gun in a fixed position. If you ever need to reach for your gun, it will be exactly where you expect. It won't move around and you won't have to constantly check the position of your gun.
2. It protects the trigger. By necessity, you may have to find and grip your gun quickly while under stress. A safe holster keeps the trigger completely protected until you have a proper, and safe, grip. Many things in your daily routine (chairs, seat belts, keys, etc.) have the potential to push through clothing hard enough to move the trigger.
3. It ensures that your gun remains under your control. Retention features in a holster aren't just for law-enforcement professionals. Make sure you invest in a holster that will keep your gun secure through your range of daily activity, whether that includes getting in and out of cars, working outside or any other sort of physical activity.
It doesn't look like much, but the extra weight of a couple of loaded magazines really adds up during a long day carrying.
5. BENDING OVER CAN GET YOU IN TROUBLE IN MORE WAYS THAN ONE.
A number of carry methods can cause printing dysfunction if you're not careful. Most belt holsters, inside or outside the waistband, can cause the gun grip to press against the back of your shorts or cover garment if you lean forward too much. If you carry a gun daily, you quickly learn how to reach low things by bending your knees and keeping your back straight.
6. HOW MANY OTHER PEOPLE CARRY CONCEALED.
Once you start carrying, you tend to look for other people who are also carrying. Trying to spot other concealed carriers is a great way to pass time. Better yet, make this activity a self-improvement drill. If you can spot others carrying, consider what tipped you off to their armed status, and don't make the same mistake yourself. For example, my daughter spotted a motorcyclist on the highway the other day using an inside-the-waistband holster covered by a long shirt. Cruising along with the wind in his face caused his shirt to ride up to his chest, leaving his gun exposed for all to see.
7. GUNS ARE HEAVY.
Actually, even light guns get heavy. Because marketing materials of pocket guns always show unloaded weight, you get surprised when you load that sucker up with 10 or more cartridges. For example, a 9x19mm cartridge weighs about .416 oz. and a single .45 ACP weighs just over .75 oz. To put this in perspective, a roll of nickels weighs about 7.05 oz., so each magazine full of ammo weighs something in the vicinity of a roll of nickels, depending on the caliber. When you carry a loaded gun and a couple of spare magazines, you're talking about serious pocket change!
8. HEROISM IS OVERRATED.
On TV and in the movies, the good guy does their thing and then a happy ending ensues. The credits roll, and Ben Cartright rides home for a fine steak dinner. In reality, doing the noble thing can easily become your worst nightmare. Even after justifiable self-defense shootings, ambitious prosecutors or family members of the perpetrator can take your life savings – and freedom – in the post-event courtroom.
9. IT'S HARD TO BEAT A TRADITIONAL BELT HOLSTER.
Regardless of whether you prefer IWB or OWB holsters, on-the-belt carry is hard to beat for gun security and quick accessibility. Is it a pain to conceal? Yes. Is it comfortable? Not necessarily. Do you have to adjust your dress code? Most likely. But when it comes to attributes designed to save your life in an emergency, it's tough to beat.
10. YOU DON'T KNOW ANYTHING.
The longer you carry, the more you learn. The more you learn, the more you realize how much you don't know. Owning a gun won't necessarily protect you from crime. Going to the range to practice doesn't necessarily mean you will prevail in a fight. Carrying a gun is literally a matter of life or death, so make it a point to learn something new each and every day.
Tom McHale is the author of the Insanely Practical Guides book series that guides new and experienced shooters alike in a fun, approachable and practical way.