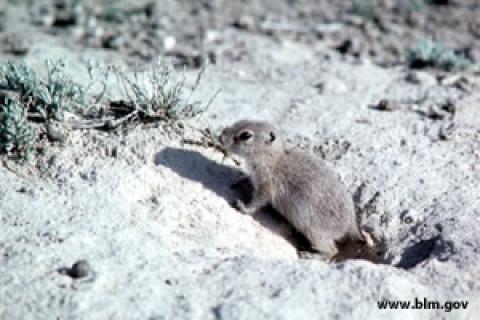 I live in Idaho so I am totally blessed. We have the best bear hunting in the world; we used to have great elk, deer and moose hunting until they smuggled in the Canadian wolf (read the book titled "The Real Wolf" by Ted Lyons). But even with all of those opportunities, one of my favorite hunts of the year is spring ground squirrel hunting. I know that probably sounds crazy, but I love it. How can you not? I'll get 400-500 shots per day on a decent day.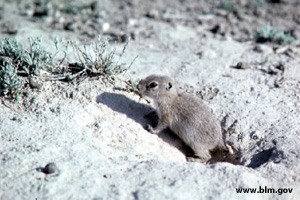 Townsend's Ground Squirrel — also called a whistle pig — game be a fun spring hunt for those out west.
As far as I know, the Townsend Ground Squirrel — or as we call them, whistle pigs — only inhabits Idaho, Oregon, Nevada, Utah, Washington and a little bit in California. They look like a miniature prairie dog. I'd say about 1/3 as big. They are more hyper than a prairie dog but will stand up and allow shots semi often.


They are unique in that they only are out a few months of the year. They'll come out in March, and as soon as it gets hot in June, they'll go underground and stay there for the rest of the year.


As a whole, you expect them to be out in nice weather, but I've had some super hunts on cool, windy, overcast days in early March. To the best of my knowledge they come out, breed and run around eating grass until it gets hot.


They are some sick little terds. I remember the first time I hunted them I noticed that one would come out and start eating one I'd just shot. I then learned that's the norm. If you pull up to a hotspot and shoot for an hour or so you'll end up having 4-6 in a pile. You'll shoot one and then another one will run out and be eating on him. You shoot him and then in a bit another one will come out. Repeat. Repeat. Repeat.
Hunting Gear
Gear is pretty simple. I've never seen anyone using a bench seat to shoot off of like you do prairie dog hunting, but it'd work. You might see an occasional guy using shooting sticks. For shooting, 99 percent of the people in Idaho use either a .22 or a .17 Hornady Magnum Rimfire (HMR). Very few use a .223 I guess just because you're doing so much high speed shooting and 80 percent of the shots are 50, maybe 75 yards. I take a .223 now and then but not much.


You'll want to use hollow points on your .22 or too many will get away. You'll also want to take a good pair of binoculars. Last week I was using a pair of Bass Pro's Oculus 10x42 binocs and they worked great. You'll also want a harness for fast action so you can drop them and start shooting.


That will pretty much be it for the gear. For a .22, I'd strongly recommend a Ruger 10/22 with a Butler Creek shot clip. On good days, you'll run through a 25-shot clip in a hot second. Put a decent 3x9 scope on your .22. You'll need a scope because you'll have a lot of head shots when they're peeking out of their holes.


This year I have another twist to whiste pig hunting. I have a .177 air gun I recently started using. The one I'm using is a Gamo Whisper Fusion Pro. I think that will be a fun gun for close shots and a great gun to start your kid out on. That way if he or she makes a mistake and doesn't pay attention to the background, a high-powered bullet isn't sent skipping across the prairie. I look forward to having fun with my Whisper this year.


Spring is my favorite time of the year. Whistle pig hunting is red-hot as we speak; crappie fishing will be firing up any week; and bear hunting is just right around the corner. Oh! And then there's morel mushroom hunting! I just finished a day of crow hunting down in Texas. See what I mean? It is non-stop this time of year. I love it.