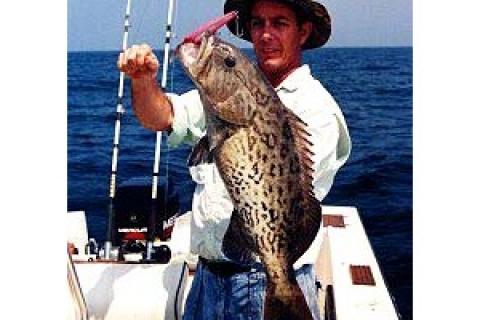 A shiny red-and-white fishing plug floated past our boat in the Gulf of Mexico, as we cast for trout on the Steinhatchee grass flats. It was a good find and something I could certainly use, a big Mann's Stretch 30 trolling plug. These same big-lipped diving plugs have been all the rage for about three years among anglers trolling for grouper off  Florida's Coastal Bend in the Gulf of Mexico.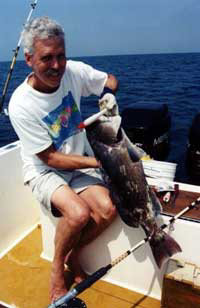 Deep-diving plugs have been all the rage among anglers trolling for grouper off Florida's Coastal Bend in the Gulf of Mexico.
We idled the boat over and retrieved it. This plug had been drifting around for a few days. The tough plastic body had some cruel teeth marks, and both of the heavy treble hooks had been partially crushed. Two inches of 30-pound line were still attached. Clumps of seaweed clung to each hook.  


A preliminary forensics report would say sometimes the grouper wins, and this appeared to be the case. This plug had no shock leader attached, only the main line. A grouper had smashed into it, chewed the plastic body, crunched the hooks, and broke the line in the first few seconds. And then somehow it had shook the plug free, where it floated back to the surface.  


The plastic lip was heavily sanded, meaning someone had trolled it deep enough to constantly bump bottom in 35 feet or less. Anyway, an incoming tide carried it inshore within a few days, where it drifted past my boat.  


Back in Gainesville I would clean it, attach new treble hooks, and give this plug another chance offshore.  


Trolling for grouper has been popular for years off such ports as Crystal River, Cedar Key, Suwannee and Steinhatchee. The technique is fairly simple: troll the boat back and forth at walking speed over a promising area (however many acres in size) and set out two big rods. Tow these lipped trolling plugs that dive down a dozen feet or more.  


Gag grouper, the main bottom predator along this section of the Gulf Coast, will rise high in the water column to attack a passing plug. Most grouper, of which there are more than a dozen species in the Gulf and Caribbean, are bottom-huggers by comparison. Not so the tasty and misnamed gag, which will chase down and munch on trolled diving plugs with certain gusto.    


Which plugs? Popular brands (usually 7 inches long) include the Rapala Magnum and the diving MirrOlures.  


Wham! There's nothing like watching a heavy trolling rod suddenly double over with a mean grouper fighting far behind the boat, chewing on the plug, diving for a nearby rock shelter or ledge. It's great sport. But the aforementioned plugs are somewhat limited in their diving ability, unless one attaches a planer or downrigger.  


Enter the Mann's Stretch 30, like the drifting survivor we picked up once. These plugs are designed to dive 30 feet and more, depending on line diameter and material, and how much line is let out behind the boat.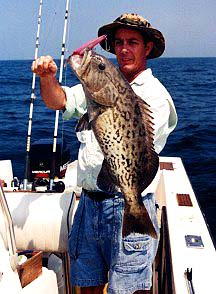 Secret honey holes are not so important when you can troll a broad area of "live bottom."
For those of us who commonly troll in 40 to 60 feet of water, the other plugs now seem limited. Those fishermen without some skill in trolling deep can now drop two plugs behind the boat, and hit the throttle. Secret honey-hole locations offshore are now not so important when you can troll a broad area of "live bottom" (sponges, rock ledges, etc.), picking up some fine 10- and 15-pound grouper.  


You've got to love grouper trolling when the action is hot. Where else can a young or inexperienced angler crank up a grouper of this size, with no skills at horsing a fish away from structure, and with little fear of losing it?  


More conventional grouper fishing, by comparison, is called "digging." That means using live or frozen bait on the bottom, near heavy structure such as a sunken boat or rock ledge. Hook the grouper on the bottom, and brute force is required to pull it away from its lair. One can break off a dozen fish in a row, if they get the better of you while running for their favorite hole. It's fishing more designed for Hulk Hogan, and not everyone is cut out for this. Trolling is easier and certainly more user friendly.  


Beginners hoping to break into this sport should follow the basics. Briefly, the grouper troller needs at least a pair of reels, say 4/0 Penn Senators. This is a sturdy, low-maintenance reel with enough endurance to handle other fish as well, whether tarpon, big cobia, medium sharks, or actual bottom fishing for grouper or snapper.  


A pair of sturdy boat rods, designed for at least 40-pound line, will suffice. Pick a rod from 6 to 7 feet in length with some backbone. A wimpy rod prevents a good hookset. You want strength here, but with just enough bend for some sport when the fish hits.  


Keep in mind that 50-pound monofilament line and heavier won't allow the plug to dive very deep. Thirty-pound line is good, but 40 feels a lot stronger in a tussle, much harder to break. Or, try using 30- to 50-pound braided line, which is very small diameter, allowing the plug to dive deeper, possibly 40 feet and more.  


Buy a few plugs of different colors, and you're ready. My personal favorite is a silver/black Stretch 30. One day with braided line, we landed 17 grouper with this one plug. A blue/silver Stretch 30, trolled at the same time with 40-pound mono line, had one strike all day and we lost that fish. The silver/black had an eye knocked off, some terrible teeth marks, and the hooks took a beating. At mid-day the plug had a tremendous strike, but was retrieved with no hooks. Apparently, two grouper had grabbed on at the same time, ripping the stainless-steel split rings (and hooks) right off. Other plugs were cannibalized for their hooks, and that lucky lure went back in the water within 20 minutes.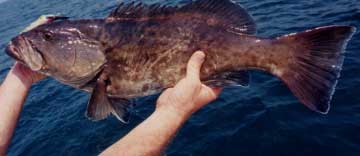 The braided line finally broke that day, thanks to a rough spot on a rod guide that gradually fuzzed and weakened the line. My plug was gone! However, we thought it would soon float to the surface, so I spun the boat around and we searched for about five minutes. Somehow we found it, bobbing around in 2-foot choppy seas. I now call that plug "Old Lucky" for many good reasons. These tooth-scarred plugs add mystique to the genre of offshore fishing.  


Serious use of fishing plugs has its parallels with duck hunting. Plugs can be collected like so many duck decoys. Some are traded. Each can be altered by painting, or customized in other ways. They must be repaired and washed after a day in the water. A  rack of  "killer plugs" are cause for examination and reflection on the tackle table during the off-season. Battle scars from tooth and fang mark up the best plugs, those lucky enough to catch big fish and still make it home.  And the unlucky?  They're still out there in the Gulf, perhaps floating around with their hooks crushed, waiting for someone like me to pick them up.