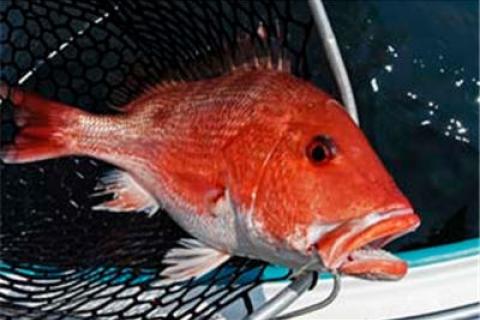 Today's daily bag limit on juicy Gulf red snapper is tighter than ever, and this summer's short fishing season will be met with greater anticipation than at any time in history.  


Since the limit is two fish per angler, it only makes sense to catch a pair of big fish for each angler on deck, before moving on to something else --kingfish, in most cases. With all those smaller snapper on the bottom, ready to chew up any bait, how do you latch on to bigger fish without hurting lots of small fish? After all, dragging a snapper 70 or more feet to the surface is hard on the fish. Anglers are now required to deflate the air bladder on each released snapper, with a tool made of hypodermic steel; that way, they don't float away, belly up. (It works, too. I've tagged and released snapper in 115 feet of water, with a dozen recaptures the following year).  


Better to catch limits of big snapper that require no measuring tape. But how?  


Captain Joe Surovik and I used to run a pair of 25-foot Makos out of Port O'Connor in Texas -- where you don't have to fish far offshore. We concentrated on bigger snapper at the platforms, without even fishing secret spots by GPS. Our trick was to drift-fish past the platforms, keeping at least 40 yards from structure. (This after 20 years of tying up to platforms with a steel rig hook. We often had shade there, which was nice, but small snapper and various bait-stealers kept us very busy).  


So, we switched to drift-fishing. During summer that put us out in the cruel, mid-day sun, but you go where the fish are. We circled around these tall structures until we marked fish with a sonar unit. If fish were at mid-depth, they were usually big snapper with a few amberjack mixed in. But not many AJs; we stayed inshore of the "amberjack belt" in deeper blue water. We'd set up a drift by judging wind and current. If the current was strong, we had to "motor fish" by bumping the engines into gear, trying to hold your position or at least slow the drift. If we got too close to a platform, spiteful triggerfish would rush out and ruin (if not completely steal) our baits. A slow current meant the triggers roamed up to 100 yards from cover. Faster current kept them penned inside structure, where they belonged.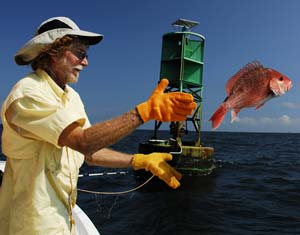 Releasing snapper in 18 feet of water off Port Arthur. These fish don't have to be deflated before releasing.
Some of the other guides drifted for snapper with 2-ounce egg sinkers and leaders, with maybe a short piece of wire in case kingfish attacked with razor teeth. A frozen cigar minnow was considered ideal bait. This worked pretty well, but I much preferred the 2-ounce bucktail jig. Why? If you missed a strike and lost that cigar minnow, you could work the jig and often draw another strike -- this time with no bait on the hook.   


I checked with Surovik recently -- now perhaps the senior charter captain for the Texas middle coast -- for an update on big snapper. (As it turns out, I will be driving one of his 28-foot Mako charterboats later this summer out of POC, just like old times). Surovik says, "These days I really like to use frozen ribbonfish for bigger snapper, dropping these bigger baits down about 20 feet above bottom," he said. "Drop too far and smaller snapper eat it up. You have to stay above bottom where bigger snapper prowl."  


Apparently snapper still don't mind a bait as big as two feet long. I've seen this technique work: In years past, we caught big snapper now and then during kingfish tournaments, using ribbonfish.  


If you're really looking for big snapper, maybe hoping to win a tournament with a 20-something pounder, try using a one-pound live bait. A live grunt (they're called "ruby red lips" off Texas-Louisana) is good. Or a live vermilion snapper. One day, while scuba diving on a sunken tugboat in 90 feet of water, I watched a 20-pound snapper relentlessly chase a single vermilion snapper out across open sand bottom, hoping to grab it. That vermilion was simply lower on the food chain.  


Like many fish in the water column, snapper prefer current that constantly delivers new food. Clean water with 30 or 40 feet of visibility, with a moderate or slow current, is just about right. The worse scenario is blackish water with hyacinth floating past on a fast current. If you see that, move on.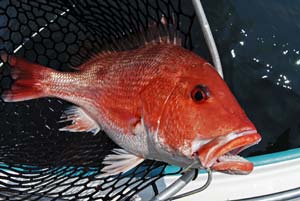 Nice snapper in the landing net
Of course, big red snapper can show up almost anywhere. I've caught them in cold, muddy water that was 30 feet deep, and very clear blue water in 30 fathoms (180 feet). Last August off Port Arthur, we released five-pound snappers in 18 feet of water on the Sabine Bank -- because we'd limited out earlier. They weren't huge, but were sporty on trout tackle.   


Some years, bigger snapper are more prominent. One year in Port O'Connor we were covered up with 12-pound snapper day after day, when the bag limit was five per angler. One glassy calm, hot day with a sluggish current, we fought those snappers with Ambassadeur reels filled with 20-pound line. Each hookup was a serious fight, each hooked snapper diving for the bottom. Our charterboat clients and their kids had 40-pound outfits, the standard Penn Senator rigs with boat rods -- and these were pulled half into the water. There was much groaning and pulling. Those snapper were only 30 feet beneath the boat in 65 feet of water. We had quite a summer.
 
Later that year near Halloween, I made a morning and then an evening trip offshore. A nippy northeast wind was blowing and my group wanted snapper, so we headed out. Kingfish showed up unexpectedly, and they were hard on my snapper jigs during the morning trip -- we had no wire leader. Time and again they cut off our 40-pound line. After losing a bait, we practically yanked our jigs back in the boat as they neared the surface, with kingfish close behind. One 12-pound king jumped on the gunnel of my boat, flopped and snapped and fell back overboard. There was concern a king would jump in the boat and bite somebody in mid-air, which has happened to unlucky anglers in the past, with one fatality years ago. Maybe we were better off without the jigs that day.   


The wind blew whitecaps, so we had eased around in the shelter of an oil company workboat that was tied to the platform. That blocked the waves --and the snapper were right underneath that big vessel. We limited out on snapper. Fortunately, no one on the bigger vessel saw the action, else they would have dropped their own baits around us.   


Back at the dock my clients loaded up and headed back to Houston with their fish, but not before two strangers walked up, amazed at the big, cherry red snappers on the cleaning table. They wanted a limit for themselves -- so we ate a late lunch, grabbed some dark, wire leader from my tackle closet, and bolted back offshore 16 miles.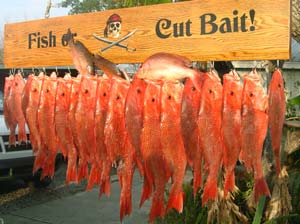 Excellent catch made in Texas state waters, where (at the time this article was penned) the legal limit is still four fish per angler.
This time we didn't bother to drift-fish, instead brazenly tying up to the workboat's tire bumpers running around their boat, which put us about 30 yards from the lucky platform. We gave the kingfish some grief with our wire leader -- but also the snapper, and these two guys soon had their limit of 10 "sow" snapper averaging 12 pounds. What a day...the seas had calmed by then and we raced the daylight back in, navigating the bay almost by starlight, and were soon back at the cleaning table at a cheerful Clark's Restaurant with plenty of outdoor lighting. It took time to clean that second batch of snapper but Miss Amy, my wife, showed up and brought us a fresh pitcher of Oktoberfest from inside, to keep up our strength as the fillet knife buzzed. That's one day I would not mind re-living.  


Along the entire section of the Texas coast, there are spots in state waters -- most often wrecks, sometimes platforms, but always within sight of the beach -- where you can find snapper. Especially after the "boys of summer have gone," to quote a Texan named Don Henley. There's less fishing pressure offshore during fall and winter because of hunting and football seasons, and that's when more snapper ease inshore where they're fair game. (That is unless the Feds finally pressure Texas and other Gulf states into closing snapper harvest in state waters. It's a battle that will likely be settled in federal court, unfortunately.)  


Somehow, with snapper populations rebounding, we're seeing seasonal closures for up to 10 months long. I can remember fishing offshore in 1970 and catching a few hand-sized snapper the entire day. Back then, anyone could sell all the snapper they caught, hundreds of tiny fish. One Galveston restaurant served plates of snapper the size of small crappie. It was classic over-fishing in those days. Today? These fish are bigger and lots more plentiful.   


Joe Richard runs several charter fishing vessels and also manages Seafavorites.com, a collection of several thousand fishing images taken during his 40 years of exploring the Gulf.