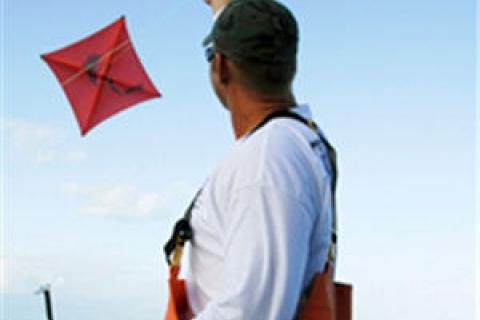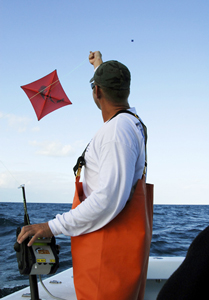 Mate releases fishing kite and feeds out line from an electric kite reel.
"Go fly a kite" used to be a somewhat derogatory term, but in South Florida, it's very serious business in offshore fishing — very serious. And complicated, but with a little practice, quite rewarding.


In the hands of an expert, kite fishing is amazingly effective. That was driven home when I was aboard Miss Britt with Miami's Captain Ray Rosher during one of the many tournaments he's won. It happened in Palm Beach in early February several years ago when his crew released 47 of 59 sailfish they ultimately caught during that three-day event. I spent two days watching these kite-fishing pros winter fishing in a howling northwest wind, and they constantly had triple-hookups on sailfish. We had kites that crashed behind whitecaps, but they were quickly retrieved and replaced.  


When it was over, I had sailfish dancing behind my eyelids each night, flipping and cartwheeling, splashing in whitewater. Kite fishing, a great crew who could handle the kites, a timely cold front that caused a big push of sailfish right into us, and "bust your butt" tournament conditions created the fastest action on sailfish that I will likely ever see. 


This is a lot more complicated than throwing baits in the water, however. Let's explore the basics from what I saw that weekend and on subsequent trips with other South Florida captains.  


Fishing Kites
Two fishing kites are employed at any one time. There are different styles of kites designed for different wind velocities. Different colors are good; you retain the option of yelling out "Blue! Red! Yellow!" if a slow crew member can't figure out where a bite is coming from.


Carry a selection of kites. Why? You wouldn't want to fly a low-wind kite in windy conditions, or vice versa. That would mean crashing or losing the kite. A dunked kite can be difficult to retrieve; if the kite line breaks, the kite sinks forever. It will also sink if the kite line doesn't break, and one can imagine how difficult it is to pull a kite back to the boat through water and waves.  


After retrieval from the ocean, kites have to be rinsed with fresh water and allowed to dry before launching again. Without rinsing, a kite grows heavy and unresponsive with salt syrup or crystals. You want it to soar with the eagles, right? (Or seagulls, anyway). Retrieving kites from 5 or 10 feet underwater isn't fun in rough seas, so some captains employ a small party balloon on the back side of the kite, which keeps it afloat and saves precious tournament time when retrieving submerged kites. It's a balancing act that changes daily with wind conditions. Kite altitude can also be fine-tuned by clamping on small weights when needed.  


For those calm days without wind, a large, 4-foot helium balloon can be attached to the kite. Some captains carry their own helium supply in a permanent tank below deck, while others fill the sturdy balloon before heading offshore.


Launching a Fishing Kite
Launching a kite is no piece of cake, especially on bigger boats. Why? On the big boat, fishing activity is confined to the stern, and that large cabin and fly bridge blocks the wind, creating eddies and downdrafts that can crash the kite when only 10 feet from the boat. Generally, the captain turns the boat broadside to the wind for a moment, getting a cleaner flow of wind, before the mate launches the kite.


A big center console boat is ideal for kite fishing, of course. Some are mounted with 20 or more rod holders in the gunnel, and the kite can be launched from anywhere on the boat. Kite rod and reel are set anywhere at all points of the compass. A center console boat doesn't block much wind, and if it does, the mate can carry the kite up to the bow for a clean launch.


Fishing Kite Gear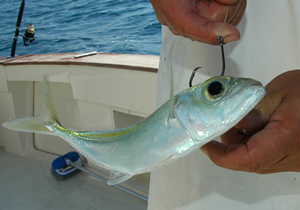 Hooking an expensive goggle-eye through the shoulder, without using a tether. 
No, you don't retrieve fishing kites by winding them on a stick, like kids with land-based kites. Fishing kites are dependably launched and retrieved on reels -- quickly, too, when the need arises. Early kite reels, still used today, were the leftover, sturdy and reliable Penn 4/0 or 6/0 reels. They were mounted on a super-short rod with only one or two line guides. These kites are retrieved manually, of course, and some captains still prefer it that way. There are also a number of brands of electric kite reels, with line counters, and they're very efficient.  (Boats must have 12-volt plugs to use them, or a 12-volt battery nearby.) Two popular models of electric kite reels include the Elec-tra-mate 612-PM and the Daiwa TB1000. Walk the dock at a Miami sailfish tournament, and you'll find plenty of these two reels about.


Clips and Leaders  
Clips are attached to each kite's line, and each clip is assigned to a rod and reel. An experienced crew will fish three live baits off one kite, with each fishing reel's line clipped to the main kite line. One might suspect this creates a mess of fishing lines dangling from the sky, but it's fairly organized. Each mono or fluorocarbon leader is attached to a fishing reel's main line with a neon marker made of Styrofoam, about the size of your forefinger, with a swivel inside. These markers float in the sky above each of your baits so you can keep track of them.


Leaders are usually 50- to 80-pound test; length is about 15 feet. Coordinating four to six markers in the sky and identifying which one gets a bite takes practice. Phoom! A pesky kingfish may suddenly jump and cut off the number five hook, and so that kite has to be cranked back in fairly close (but not landed), and another hook attached to the cut leader. Most surface strikes don't result in a cutoff, however, because most offshore fish hitting at the surface don't carry wicked teeth.  


Fishing Reels  
Kite fishing tackle typically consists of high-capacity, open-face baitcasting reels with super-smooth drags, filled with 20-pound mono line. Avet makes the fancy, gold, silver or blue line of quality reels. The Shimano TLD series in size 15, 20 or 25 are popular, as is the Tiagra 16 two-speed reels. Daiwa's Saltist reels are popular. And don't forget Penn's smaller International 965 and 975LDCS.


Other anglers get a kick out of catching offshore fish on spin gear, but remember — a strike under a kite might be 150 feet away, and you'll need even more line to fight the fish. Still, kite anglers are happy with the Penn Spinfisher reels, with some of the guys keeping it very sporty by dropping down to 17-pound line. Quantum's Cabo spin reels are quite smooth as well, another favorite with the kite crowd. (I've used my Cabos in five different countries, though not under kites). 


Using Live Baits  
Kite fishing means using live bait, without exception. That's a whole 'nother chapter to saltwater fishing, but suffice it to say you will either have to become adept at catching your own, while using a castnet and/or Sabiki rig, or you'll have to buy live bait. If you have the money, then a couple dozen goggle-eyes work best, but you will pay for the convenience. They're silver and almost as tough as a blue runner on the hook, scampering all over the waves. They can only be caught at night, however, out on the offshore reefs, which is a serious hassle.     


Easier to catch in daylight hours are Spanish sardines, cigar minnows, pilchards and blue runners, and these are all proven kite baits. Buy a dozen varied packs of Sabiki rigs and learn how to use them. Watch for a cluster of boats (sometimes 30 or more) within sight of the beach, and they're likely harvesting baitfish with those little rigs. 


Kite Fish Species    
Sailfish, blackfin and even yellowfin tuna and dolphin are pelagic species without sharp teeth that are commonly caught under kites. Even black grouper and yellowtail snapper are caught with kites, and a mono leader will handle them, too. If a wahoo attacks, that's a different matter -- you'll likely be cut off again, unless a foot or two of wire has been attached to the hook. 


Fishing Hooks & Rigging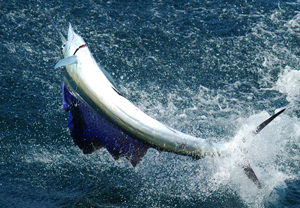 Sailfish get feisty under the kites, but this technique will catch a variety of other fish.
Thin, colored circle hooks have grown in popularity and are now required by most South Florida tournaments. They cause little damage to big fish, and many are even deliberately left in sailfish, using a pole with a line-cutting device at the end. These hooks, whether circle or j-hook, are generally sewn into a live baitfish, using a long needle and short piece of Dacron line. Pierce the baitfish through the shoulder, tie a loop and snug it around the hook's bend, leaving only line piercing the baitfish. This causes little damage and allows for great freedom of movement.


Four to six live baitfish scampering around the surface — it's a powerful attraction for ocean predators. That's assuming you don't allow your baitfish to be pulled too high when the kite rises. Tending fishing kites is a constant affair, and letting out kite line is necessary when baitfish keep getting pulled too high. If so, add weight to that kite.


A finely-tuned kite fishing system is a thing of beauty, and a constant source of fishing action on the right days.