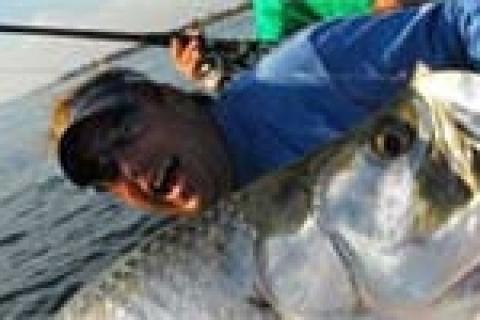 A couple anglers show off their tarpon catch.

Here's a few basics about tarpon fishing on the Gulf Coast, which probably has applications up to North Carolina during summer and early fall. We use live bait and medium tackle; this isn't fly fishing on some crystal clear flat in southern latitudes. Some of these tarpon are huge, bigger than 200 pounds, and the fight can be long and last way after dark.


First thing to remember: This is big-game fishing and a bristle of trout rods are completely useless unless you're hunting small jetty tarpon close to the rocks. Except for specialty flyfishing, big tarpon require heavier tackle. They're strong, frequently crazy and seem to have different personalities. (Fight several of these fish for an hour or more and see if this isn't so). A big tarpon that jumps only once, if that, will save his strength and gulp air at the surface to regain energy. He won't wear himself out jumping, and may fight way past sunset, hoping you'll give up, instead of him.


That happened more than two decades ago with our first big tarpon, hooked on a ridiculous 8-foot surf rod with big spin reel and new 20-pound line. Tarpon legend Tom Gibson gave me a 7-inch, orange Rapala diving plug with trebles removed and a big circle hook wired on top. While we were anchored it would require casting, thus the long surf rod. The strike was shocking — only 12 feet away, the huge fish wallowing and then tail-walking past the motor and it was hit the dirt! Our two young sons dove into the cuddy cabin like it was a World War I dugout with incoming mail on the way. (If that tarpon had landed in the boat without cover for them, it would have been very bad.)


I hung on, impressed that a 16/0 circle hook held tight with only 20-pound line. However, you can't move a 7-foot tarpon around with a surf rod, at least not while anchored. We didn't care to move, with tarpon big as porpoises rolling at point-blank range. But pulling on this hooked fish was useless, so we set the bowed rod in a holder, rigged up heavier tackle, and jumped or landed four more tarpon as the sun went down. After several hours, the bent surf rod was finally dealt with in pitch darkness. Miss Amy pulled back and crack! The knot gave at the spool, leaving it empty. Relieved to rid ourselves of that fish, we bird-dogged a friend's boat in inky darkness back to the dock, tarpon fans forevermore.


Fishing Reels and Line
After that fateful evening we pursued tarpon with a passion, using our 40-pound Kingfish outfits. We pretty much ruined that gear; Shimano TLD-15s and Ambassadeur 7000 reels were never designed for many hours of brutal work, using fairly heavy drags against tarpon measuring up to 7 feet. Learning the hard way, we upgraded to Shimano TLD-20 and -25 reels, Penn 4/0s and a Penn International 30 reel. We started with 40-pound Ande line, but found that 50 was better. It shortened the fight and the fish were often released quicker, getting us back on station for round two. When Tom Gibson was hunting 300-pound, all-tackle world record tarpon in Africa, you can bet he used big-game reels and at least 80-pound line. A tourist lodge there might use Mickey Mouse tackle, but not world record hunters.


 Check out Tarpon Fishing Basics Part 2 for more information on rigging, lures, live bait, boat tips and when to fish Tarpon.


 Written by Captain Joe Richardson for Bass Pro Shops Outdoor Library