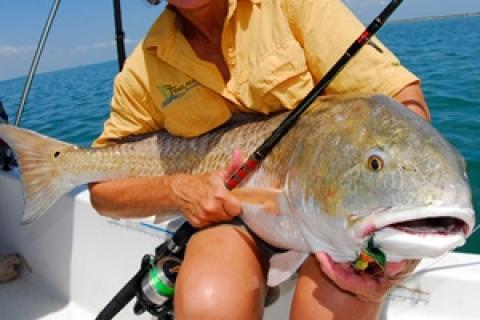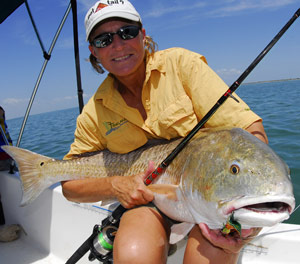 Marilyn Giessel in Port O'Connor, Texas, with a trophy-size redfish caught on a jig after sight-casting in 20 feet of water.
The fall redfish run is no myth. Not only do these fish gather and spawn in September, but it coincides with the fall mullet run, which lasts well into October. That's when millions of these silvery baitfish gang up and migrate south for the winter and get blasted by redfish for their effort.


First, the spawning game: Redfish of 34 inches and bigger spawn every autumn, using those strong, incoming high tides of fall, aided sometimes by higher water from tropical storms or even hurricanes. The super-high tides push fertilized eggs back into the marsh where they develop and grow. (It's been said that a "strong recruitment year," or a great year for redfish, coincides with big storms.) Autumn action on big reds can be fast and furious, non-stop action until anglers can take no more.


We've done it before during autumn, our boat surrounded perhaps by a thousand big spawner redfish. Twice we heard them drumming beneath the boat, on quiet nights during perfect conditions. It was the exact opposite weather from a tropical storm. There were so many fish, there was no need to set out more than one rod; each was instantly doubled over by a 40-inch redfish before you could set the rod in a gunnel holder. This was fishing in an inlet, a natural pass with 20-foot depths, and we were fishing bottom with cut mullet and other bait, including croakers and menhaden. Even a small bait on a big circle hook drew hits. Back then we used 4/0 "snapper rods" with 40- or 50-pound line. It was hard work, but the redfish couldn't take much line when hooked only 20 feet away, and that's how we racked up big catch numbers. Our best afternoon was 46 bull redfish landed and released in one spot, before running out of bait. That was about 800 pounds of redfish.


It should be noted that rounding up fresh live bait with a cast net is a valuable plus on these redfish trips. Frozen bait just doesn't stay on the hook as well, especially with sea catfish, crabs and critters nibbling away. If you pin a circle hook through the head of a fresh, one-pound mullet, nothing on this earth can dislodge it. It will eventually draw the attention of big predators, usually redfish.


I soon realized lighter gear was more fun for big redfish. We began using 20-pound spin gear with 7-foot rods — tackle commonly used in the winter sailfish tournaments in South Florida. Perfect tackle! Each fish gave a very good account of it, making runs up to 80 yards, before being worked back in. Anglers in nearby boats were hooking these 40-inch reds on lighter bay tackle, often using 12-pound line, and that meant a long and tedious fight that eventually becomes very hard on a big redfish. That wasn't good; the vast majority of these fish are supposed to be released in good shape, not floating belly-up from exhaustion.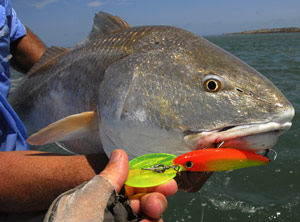 Bull redfish caught on a deep-diving trolling plug. Digging treble hooks out of these fish is tough work.
Mid-August can be called the early fall season, and we saw bull redfish busting migrating blue crabs on top. We were able to sight-cast to these big fish, which were the size of cobia; indeed, they looked like orange cobia in green water. During five consecutive days, I put 59 of these big redfish into the boat, eventually straining my shoulder. Many of these fish were caught on sporty 20-pound spin tackle. Some were caught on heavier gear, by pinning a frisky blue crab to a circle hook, and lobbing it behind the boat, leaving the reel in gear. Some of those reds made runs of 80 yards and more, but we had enough power to work them back to the boat. One redfish that I spot-cast to made a longer run, spooling the big spin reel, leaving me with nothing. (We had the boat's anchor set in 20 feet of water, and couldn't retrieve it fast enough. It was an awesome show of power by these fish).


Bull reds caught that week were actually sight-cast to, using green and orange bucktail jigs, home-made jigs with chicken feathers, white amberjack jigs, a topwater Mirrolure, and two brands of deep-diving plugs designed for kingfish. That's a wide variety of artificials. Watching a 42-inch redfish rear its head out of the water, to chomp down on a topwater plug — that was a first. Digging treble hooks out of thrashing redfish wasn't much fun, and we went back to throwing single-hook jigs. It was amazing action, and everyone had a good time, save for the blue crabs getting blasted on the surface. Many bull redfish photos were added to my collection.


Safely back on the Atlantic side of Florida, we're waiting for a repeat of last autumn's action of slot-sized redfish. This coincided with the finger mullet migration, when you could cast-net lots of mullet. We either surf-fished from the beach, fighting those redfish on long, 12-foot surf rods, or anchored 50 yards out in the inlet, setting out a spread of the 20-pound outfits, rigged with sharp circle hooks and mullet, both alive or "butterflied" to put out maximum scent. On several trips we fought double-headers, when two redfish latched onto the same 2-hook leader. The nearby crowd, who used single-hook rigs, was shocked when we drug up fighting pairs of keeper-size redfish.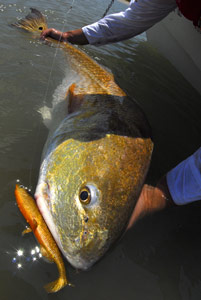 Easier to unhook are these soft plastic jigs, which big redfish clobbered just before September arrived.
On the beach were dozen of anglers with their 12-foot rods, set in PVC sand spikes. Rods were yanked down by sudden strikes, reels dunked in sand and salt. (It's a cruel environment for fine spin tackle). I had to jump into the water, to save my best 7-foot spin outfit -- which had two redfish on the far end of the line. This was on 15-pound tackle and the battle was long, getting two redfish to cooperate in a swift current. I grabbed the leader four times before both fish gave up and were dragged ashore. They weighed only four and six pounds, so the smaller fish was released. (Our best catch was eight keeper reds, always caught on the outgoing tide).


Most surf tackle is sturdier, of course, with the aforementioned 12-foot rods and 20-pound line packed onto big reels. Some anglers prefer a stiff tip on the rod for throwing long distance, while others employ a softer rod tip to better detect strikes from a variety of smaller fish. The beach was lined with these long rods during the fall redfish run.   


Double-hook rigs are rare here for some reason. However, two slot-sized reds have a difficult time breaking new 40-pound mono leader when both fish are tethered together. Those Eagle Claw Lazer 9/0 circle hooks, either red or black, worked like a charm — no need to set the hook — and make it easy to release fish, which is handy. The circle hook was simply made for catching redfish; these fine fish are almost always hooked in the corner of the mouth by circles, making for such an easy release. This is also a tough customer in the boat, and even a long minute spent prying loose the hook isn't detrimental to the fish — as it would be for something like a king mackerel.


We've used circle hooks on big redfish since the mid-1980s, but always those huge 16/0 circle hooks, much bigger than needed. They're the best hook for tarpon, and that was often our target fish, though we landed dozens of bull redfish before and after each tarpon. The eye of these circle hooks was so big that you could pound one with the heel of your fist to knock the hook loose. About one of every 30 circle hooks were swallowed, and when that happened, we simply cut the line right next to their lips before releasing them. We also used 150-pound Ande line for leader, so you could catch many of these fish without losing any tackle at all.


It was often fast and brutal fishing. But after all, releasing big redfish still feisty and in good shape is an investment in the future. I can't imagine autumn arriving without a redfish run.