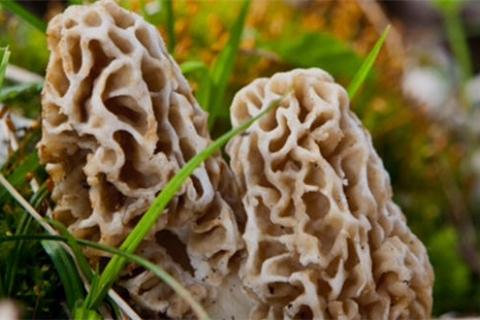 If you've never hunted morel mushrooms you're missing one of the best of delicacies that the great outdoors has to offer. I've been around cattle all of my life and have had access to the best steaks in America, and I'm telling you, morels are better than the best steak. They're that good.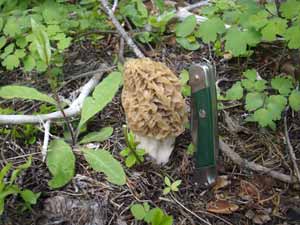 Be sure to study the differences between the real morels and the "false morels," which can cause acute illness.
If you've never hunted them before, go with an old timer the first season. You don't want to mess up and pick the wrong ones. I only pick a couple of the varieties that I know for sure. I took a mushroom class one winter. It's crazy to be out there and only pick one to three varieties when we easily have 10 identifiable varieties where I live. After the class I didn't feel comfortable so I'm still only picking the few that I know for sure.


If you mess up and pick the angel of death, well, let's just say that you've better have your life in order and be right with your maker because you're fixing to meet Him. It's not worth dying over. But the good news: Morels are easy to identify. I hear that there are some false morels back East so like I say, don't read this article and think that you know everything. Go with an old timer and get someone to train you. Buy books and study them or go to class and come out as confused as I was.



  Read: 6 Morel Mushroom Hunting Secrets
Hunting Mushrooms

I've been hunting mushrooms for over 30 years and still don't claim to know what I am doing. Some people tell you to look under rotting logs; some say under fir trees. Sometimes I find them in those places, sometimes I don't. I found a place one year that was a grassy hillside. It had a good number of them. I find a few there on that hill every year. Why would they be there? It seems to me if you find a good spot, check it out every year.


Tip: "False morels," while sometimes can be consumed without ill effects, have been known to cause acute toxicity. The cap of  the false morel appears wrinkled or "brainy," while real morels have honeycomb or net-like caps. An easier way to determine their difference: When the stem is cut open, false morels contain a cotton ball-type substance, while stems of the real kind are hollow.
I find a few on steep banks of old logging roads. Watch them as you walk or ride down them on your 4-wheeler. Everyone will tell you as soon as the snow melts or you have a spring rain and then it warms up, get ready. They'll start popping out.


If I find one I always look downhill and uphill. Many times the spore will wash downhill and you'll find more. One day I spotted one and picked it. I then reminded myself to look up/downhill. Gee, I'd just stepped over two.


But by far, the most magical is the spring after a forest fire. One year I had a string of bear baits going for my nephews that were flying out to stay with me. Between baits we stopped at an old fire. Wow. It was unbelievable. Under one lodge pole pine I found 13. We racked up on them.



Tip: Check out this revealing paper on SPRING MORELS AND FALSE MORELS OF MIDCONTINENTAL U.S. by H uffman & Tiffany, December 2001
2007 though was the best that I've ever seen. I filled two 5-gallon buckets in a couple of hours. Walking down the mountain I was stepping over clumps of 12. My wife went back with me and we both got two 5-gallon buckets full. I took another couple with us. Same thing, eight 5-gallon buckets. I found one opening that was solid. To tell people the magnitude of them I counted how many I picked out of an area that you could have covered with an 8-by-10 foot tarp. I picked 142. That was a good year.


On years like that you cannot eat all of them at once so  you may want to sell them to restaurants or fruit stands or better yet dry them or freeze them. My buddy Ed Sweet strings them on a string with a needle and hangs them up to dry. Commercial guys lay them out in the sun or some people use food driers.



  Read: A Spring Trifecta: Recipes for Crappie, Morels & Wild Turkey
Preparation & Cooking Morel Mushrooms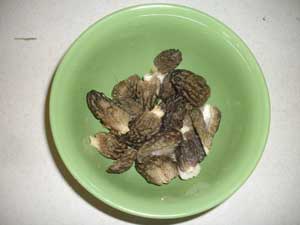 There are a number of ways to cook morels, but if your buddies find out, better make sure you have enough to go around.
To prepare mushrooms is simple. I hear a lot of elaborate drawn out procedures but here's how I do them.  I split them in half and put them in a bowl. Fill it up with water and gently pour it out. Repeat a few times. I then sprinkle them with salt and cover with water. This will kill any bugs. Let them soak overnight.


But, if you want to cook a batch right away, go for it. I got in about midnight one night and just threw my bag in the fridge. The next night I cut up some, rinsed them off and fried them up for my daughter and her buddy.


My Mushroom Recipe:  After slicing and rinsing to remove dirt and bugs mix up two eggs in a bowl with a little milk. Then roll them in flour and throw them into a hot skillet of oil. Some people use butter. I like to season them with Lawrys or the last few years I'm big on Tony Chachere's seasoning. Fry them to a golden brown and then lock the doors, take the phone off the hook and enjoy. When your friends find out that you have a mess of morels, watch out — it's worse than getting rich. All kinds of old acquantiantcies will start showing up.


An older couple that we know, Jack and Ida Sweet, used to go up picking mushrooms. They'd then wash them off in a creek, grill up steaks and fry mushrooms right there in the mountains. That always sounded like fun to me.


Other buddies make a mushroom soup. They use cream and it is good. My old bear hunting buddy Roger Ross fried them up in some scrambled eggs for me and Roy Snethen one morning. That was good.


I think that if you mushroom hunt it can add another dimension to your outdoor experience, especially if the hunting isn't too good. Who cares, hunt some mushrooms.