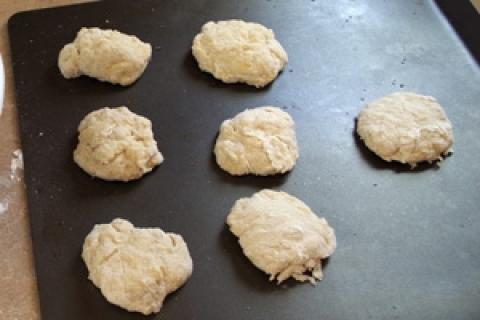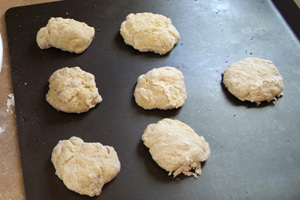 When you hear about sourdough, your mind wanders off to years gone by. You could suddenly be on the trail driving a herd of cattle to the railhead in Abilene. It's early morning and you just got your horse saddled and bucked out and pulled back into camp for a big breakfast before you string the cattle out on the trail. You ride up to the chuck wagon and the cook whips out a pan of sourdough biscuits and gravy. You pile off and dig in.
Or you could be up in an Alaska mining camp. The sun has not yet peeked over the mountains and it's cold outside but as you step out of your cabin you can smell the fresh cooked flapjacks. You kick up your pace as you hustle over to the cook tent for flapjacks and molasses.
Sourdough bread, biscuits and flapjacks have fed trappers, miners, pioneers and cowboys for years. Years ago they didn't have yeast in a package. To make bread rise they had to generate their own yeast. Is it a big mystery as to how they did this? Now, yes; years ago, no. It used to be common knowledge.
Well, exactly what is sourdough? How do you make it? Let's talk about that. Sourdough is a home-generated yeast. There are a variety of ways to make it. In the old days they always had a batch growing and worked out of that. Today it's passed around under the name of Friendship bread, Herman, starter and so forth. Some families have had the same batch for years. Esther Richter gave me one that has been in her family a couple of generations.
But what if you're new to this and you don't have a family starter? First, let's discuss a few different ways to make a starter. Try the below methods.
Making a Sourdough Starter
You can cheat and mix 2 cups of flour, lukewarm water and 1 package of yeast; or


Let a cup of milk set at room temp for a day and then add 1 cup of flour, mix and let stand for a couple of more days until it starts working; or


Scald a container and mix 2 cups of flour with lukewarm water and let it stand uncovered for 4-5 days until it starts to work; or


Boil potatoes and save the potato water, then mix it with lukewarm water and flour to form a thick batter. Let it stand for a day or two until it smells right.
A few days later you wake up on Saturday morning and decide to whip up some sourdough flapjacks. Once you eat sourdough, regular ones will seem bland. Here are a few recipes you can try.
Sourdough Flapjack Recipes
First One:
1/2 cup starter
1/2 cup pancake mix
1 egg
1 tblsp cooking oil
1/2 cup milk
1/2 tsp baking soda
Lightly grease skillet and drop onto griddle while batter is still rising.
Second One:
Night before mix two cups flour with 1/4 cup starter and warm water, set in a warm place until morning. Next morning mix in:
2 tsps salt
2 tsps sugar
1/3 cup melted shortening
2 eggs beaten
1 tsp baking soda dissolved in warm water
Drop onto lightly greased skillet.