I've bow hunted for nearly 35 years and for whatever reason I've never owned a bow case. A few years ago I bought a cheap one that theoretically you could fly with but it wasn't very stout. It would probably suffice for driving into hunting camp and that was about it. This year I got the Plano Parallel Limb Bow Case. It is twice as stout as my old one and will work fine for flying or driving into elk camp.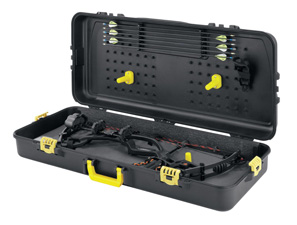 The author likes the way his Plano Parallel Limb Bow Case has held up on his hunting trips.
It arrived literally days before I headed up to the mountains. It was sprinkling when I left the house. I usually carry my bow up in front of the truck with me but thought I'd throw it in back and test out the case. It rained or snowed nearly non-stop all week. I thought it'd be a good time to test it out in wet weather so I also left it outside the tent. In a week of elk hunting in inclement weather it literally only leaked one drop. And that might have been my fault. I'm not real sure that I didn't shut the latch on the foam cushion.
I'm really particular when traveling with my guns and bows. I don't just throw them in the back of the truck or tie them on my four-wheeler and take off down a rough trail. In fact normally, I don't even put them in a case and just lay in back of my truck when driving down a highway. I don't want my scopes getting knocked off or messing up my bow.
One year I had dropped my bow and missed an antelope not 20 yards away. I shot some practice shots and discovered the problem. My sights had been knocked off when it fell. So I learned on that hunt that protecting my bow is just as important as protecting my rifle scope. So in a nutshell, buy a good case so your hunting equipment is protected.
When looking for a bow case don't forget, not only do you want to protect your bow, you've also got to protect your arrows and broadheads. A damaged arrow may shatter and shoot into your forearm and I don't need to tell you how expensive that broadheads are. So you sure don't want to ding up the edge. At the very least you will dull them, at the worst you may really ding up your edges and make them useless.
So as you look for a bow case, I'd suggest looking for a few qualities:
Stoutly built.
Water proof — a lot of the cheaper cases aren't water tight. If it leaks in a week of hunting it may rust up your broadheads or hurt your bow.
You'll want a lockable case so you can fly with it.
A case that firmly holds your bow, quiver and arrows in place.
You may also want to make up a little emergency kit to keep in your bow case. String wax to touch up your string, Alan wrench set, field tips to practice with and extra broadheads. It's also smart to throw in an extra release.
A few years ago Joe White was in Nampa doing a Men at the Cross event and wanted us to take him elk hunting while he was out here. A day or two into the hunt I looked down and the release mechanism had fallen off of my release. (I think it was the day that we found five bulls in one canyon). Luckily I ran into a guy that owned a bow shop in Caldwell named Archery Central. His kid was coming up hunting that night so he called him and told him to bring me a release. Blessings happen.