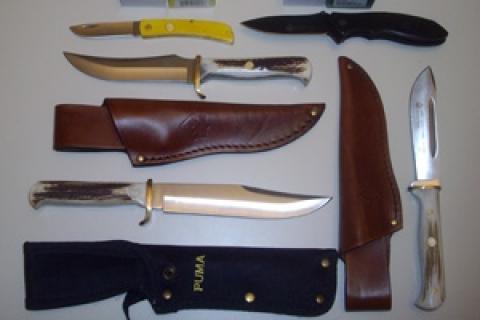 I guess all outdoorsmen love knives, but I really love them. It floors me when I'm giving a drop-in knife sharpening seminar and ask if anyone wants me to sharpen their knife. Three out of five people look around with a blank look and mutter, "Uh ... well, I think I left it at home." How do they get by without a knife?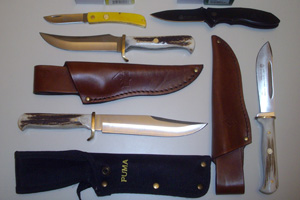 The author can't say enough about the line of Puma hunting knives.
I'm trying to think of the few places that I don't carry a knife. So far I can only come up with one — taking a bath! About every other activity that I do I need my knife.
A rodeo buddy in college introduced me to Puma fold-up knives, and I've had them ever since. Puma makes a wide selection of knives. They have some very popular straight bladed knives such as the all-time favorite White Hunter and the Skinner, but they have also recently come out with a tactical line. But where I think that they really excel is in their fold-up line. I've always thought that they made the smoothest fold-ups. You need to check out some of them. I like a larger fold-up but they make all the way from large to small. I've used them to clean everything from antelope to moose. They also have a Lonestar line that looks like it'd be a great everyday carry knife.
I've met with Chris Lalik at the SHOT Show the last few years and am on pro-staff with him and he sponsors me in numerous seminars, but last week I finally got a chance to go to his home office and visit with him.
By the time that you read this article I will be back in Idaho elk hunting so I took six knives with me to test. The five in this picture are all ones that your favorite Bass Pro Shops carries. I have wanted their Skinner model knife since I was a kid on a 50-cent per week allowance budget. Now I finally have one. I can't wait to test it out. Now all I have to do is stick an arrow in a bull, buck and bear next week.
The traditional line of Puma knives is still made completely in Germany and the craftsmanship is superb. Their new PUMA SGB knives are made with German steel and assembled in China to help reduce cost. This allows the sportsman to buy a super nice knife for a reasonable price.
All of their knives that I've used have stout blades, and I've never broken one, although I didn't help one once when I was chopping dry ice on a concrete slab. But the knife that Chris was especially proud of was his Coyote Stag, which won the 2013 Outdoor Life Editor's Choice Award. It should be a good skinning knife.
As we close though, if you asked me which knife to get if you could only choose one. I'd have to say my green handled Master or the Skinner. The Skinner is a sweet hunting knife. It has a beautiful brass looking finger guard and thumb grooves in the top of the spine (blade) to prevent your hand from slipping even when cold, wet and slippery.
Many of their knives come with some awesome looking stag horn handles that add a little nostalgia to them. Well, good luck deciding which one to buy. I'm betting you have to walk away with more than one. There are just too many good choices.