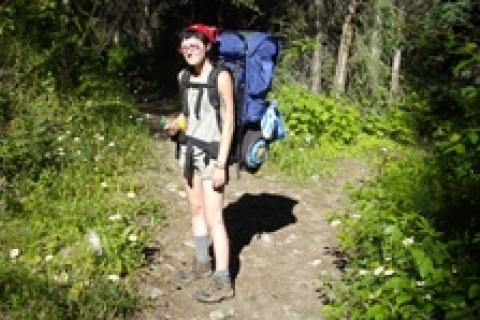 When I talk about socks it reminds me of the saying, "You've come a long ways baby". I hate to sound old but not that many years ago we had three choices for socks: white, dress and wool socks. That was it. It seems like in the last 20 years or so you started seeing hiking socks.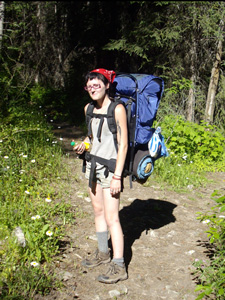 My daughter Kolby with a good pair of hiking socks on ready to hit the trail.
Now go to your local Bass Pro Shop and look at what's available. There are a lot of options. After the 2012 SHOT show, I met up with Angie Marshburn of Carolina Hosiery, who ended up helping me immensely with this article. After talking to her for two minutes I could tell right away that she loves her job and is very knowledgeable on the topic of socks.
NAFTA (North American Trade Agreement) caused many changes for industry in the US, primarily for sock mills. As a result of these trade laws, many mills in North Carolina have been forced to close or to source product from other countries.
That's not the case with Carolina Hosiery. The company has been in business since 1945 and manufactures all products — proudly in the US.  They produce the sock line for Browning, which is how that I met up with them. One thing led to another and I ended up testing nine different styles for them. To say the least, they make some nice socks.
If you are not very knowledgeable on the topic you may wonder why you would need so many different styles. It's like anything, a demanding market brings out many new inventions. Angie credits the developments to two factors:
A more outdoor society.
Staycations — More people are staying home and hiking and working out now than years ago.
If you wear a pair of good hiking socks on your next hunting trip, I guarantee you that it will not be the last. You'll just have to try them to believe it. Also, next time you take off on an all-day elk hunt or a backpacking trip at midday, slip on a fresh pair. You won't believe how much it will freshen you up.
I've heard it said that when hiking, you're only as comfortable as your feet allow. I don't want to over dramatize it but at the end of a hard day of hiking you won't believe how much better you feel. They will wick moisture away so even if you're crossing creeks, marshes and bogs it should help to somewhat allieve that wet, clammy feeling.
When buying boots, wear a pair of thick hiking socks. You don't want to buy your boots while wearing a thin pair of cotton socks. If you do, when you slap on a pair of hiking socks your boots will be too tight.
I think as a whole America has been blinded to what a pair of good socks should be like. Many of the cheaper ones will have a definite toe seam which in a hard day of hiking will wear into your toes and cause blisters.
The week that I received the socks from Angie I had to work the Yakima Sports Show. I know that you will think that I am a whiner but shows do tire you out somewhat. They did help cushion my feet and I felt a lot fresher at the end of the day.
Recently I went on an Xtreme Winter Camping backpacking/ice fishing excursion. I thought that it'd be a good time to try out some of her thicker socks. In milder weather I don't want exceptionally thick socks since my feet will over heat. These worked fine.
After a hard week of elk hunting many times I'll hardly be able to walk. Having a good pair of socks may just be the factor to tilt the scales in your favor a hair.
The moral to the story, socks cannot compensate for a bad pair of boots but they will sure compliment a pair.