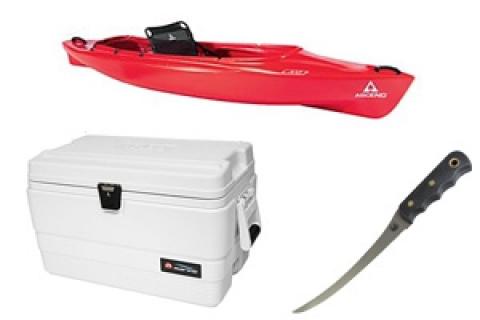 In our series of Christmas Lists this is the easiest one to write. There are a quadzillion different fishing lures alone, much less when you get into the rods, reels, line and clothing.
While you may not be able to afford a bass boat, give your favorite angler something else that floats — a kayak.
Even though I think that it is a communist plot to make me buy more lures, I begrudgingly have to agree that it seems every year that a different color or style of lure is what is working. Maybe in all actuality last year we cleaned out the gene pool of crappie that like yellow/red jigs and this year there's a slew of fish that prefer to hit black jigs. Who knows the reason, but it seems to change every year. Well, let's get started.
Lures. Oh my gosh. This could be a whole list in and of itself. Lake Fork Trophy Lures makes some sweet plastics. Too numerous to count. I fished with them this summer and they have some top notch crappie gear. I also took a batch of their lures back to Idaho with me and we tore up the black bass on them. Next spring I'm going to drill the small mouths. I also just took some to Louisiana for the Reds and Specks. Check out their Magic Poppers. The paint job on them is unbelievable. I'm almost scared to bang one around they are so pretty! Luck E Strike has a good selection of lures and especially plastics for stripers. I have some of their big jigs and plastics to test. Three striper trips cancelled due to weather! Arghh!!! TTI-Blakemore Lures. Big Roadrunners used to be my go to lure for stripers on Lake Texoma 35 years ago. They're still good. Then they also have a lot of crappie options.


Rods. You can get all the way from a medium priced rod on up to the elite models. And it never hurts to have a lower grade one in case you have a boatload of kids for the day. For every species of fish you'll need a different rod.


Fly rods. I'm going to put these in a class of their own. I've probably got 9 or 10. In the old days they said you had to have 2-piece rods, that 4-piece lost their sensitivity. That may have been the case 30 years ago but now I wouldn't buy anything but 4-piece. They're just too easy to pack when flying, backpacking and horsepacking. Plus, you don't have to pay for extra luggage when flying, just stick them in your other luggage. Plus, they don't get broke as easy. I have two Loomis flyrods and love them.


Flies. There is no telling how many hundred flies I have in my fly vest not to count my stockpiles at home. In June I have to load my vest with stoneflies, late summer with hoppers, if I go to Alaska I have to reload my vest with another variety of flies. I can only pray that my wife never figures out how many flies that I own. It would be justifiable homicide if she gets a woman judge.


Waders. I don't always wear waders when backcountry fly fishing just because I don't want to have to pack them in and so that I can cut weight but in cold weather fishing you just have to have them.


Wading boots. For fast running steams with slippery rocks you have to have some good wading boots. I'm in the process of testing out some Korkers. I've heard good things about them.


Reels. To reduce your cussing and walleyed fits don't buy cheap reels. If you're a fisherman I don't need to explain.


Nets. You'll need different nets for trout, bass and salmon.


Knives. For a cooler full of crappie and stripers you'll want a good electric fillet knife. For big steelhead or salmon you'll want a Knives of Alaska Coho fillet knife and for backcountry fly fishing you'll want a Havalon Baracuta to fillet out dinner. It folds up and is safe and handy to pack in.


Fishing arrows. Fish aren't biting? No big deal. Pick up bowfishing. It's a blast and cleans out the trash fish. Muzzy carries a wide assortment of good fishing arrows. To me their stingray arrows are easier to hurry and release a fish and get back into action.


Boat gear. If he has a boat he can use rod racks, life vests, lights, coolers, cup holders, depth finders, Minn Kota trolling motors.


I feel like that I've barely got started and we're out of time already. My ice fishing buddies are going to kill me. I didn't even get to mention them. I could write out a whole catalog on fishing items. In fact, Bass Pro Shops did. Grab one of their fishing catalogs and dive in. Or, pack a lunch and go get lost in your local Bass Pro Shops fishing department.