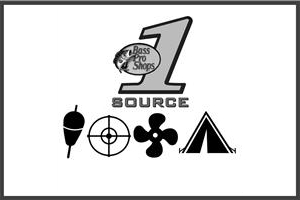 I think that every state has its own beauty but there are a few states that are leagues ahead as far as us sportsmen are concerned. Louisiana is definitely one of those. If you've never been to Louisiana you have to go. It is a wildlife paradise.
I met Anne Klenke at the Professional Outdoor Media Association convention in South Carolina in March. One thing led to another and before long the Lake Charles/Southwest Louisiana Convention & Visitor Bureau invited me down for a full schedule of events, one of which was a fishing trip.
I flew in on a Thursday afternoon and was met at the airport by Kaylen Fletcher that transported me into town and turned me over to Amos Orr that zipped me down to Big Lake Guide Service.
I was greeted at the door by the cook, Benita. She told me to settle in and that she was going to cook dinner for me. When I was younger eating was just a necessity to keep me going, somewhat like having to stop and fuel your truck. As I get older, though, camp cooking is more of an event that I enjoy and I find myself wanting to have better meals.
So with the above said, I don't want to sound like a Joe Touristo but  everytime I go fishing in Louisiana it's almost a toss-up as to what is more enjoyable: the fishing or the Cajun food. I'm a hardcore outdoorsman, but I'm serious, you'll find yourself rating the trip about 60 percent fishing and the other 40 percent of your enjoyment coming from the eating.
If I had to rate food I'd have to go with Cajun as No. 1 and I have access to the best steaks in America. Benita did not disappoint. She fried me the best fish that I had ever had in my life. Then she had a twice baked potato that was out of this world with all of the fixings and homemade cupcakes to top it off. And of course sweet tea for the beverage. I rolled out of the kitchen like a National Geographic beached whale and finished the night out typing up some articles.
The next morning before daylight, Nick Poe, the son on the owners Jeff and Mary Poe, came by to grab me. I'd been in correspondence with Laurie Lee Dovey, the Executive Director of POMA, the night before and coincidentally she had fished with the Poes nearly 30 years ago when they had first started guiding.
We got to the dock and Nick said he had a spot a good ways off he wanted to hit first for Specks. Our target today was Specks (Speckled Trout) and Reds.
We hit a sandy beach but for whatever reason no one was home. I can't remember, we may have had a bite or two. Lake Fork Trophy Lures had sent me some of their plastics to test. After a bit Nick said let's jump so we moved to a river that fed out into the Gulf. If I remember correctly we boated a couple and Nick threw back a handful of small ones.
One of them was pretty small so I told Nick to let me get a pic. It'd be one of those "I came to Louisiana and this is all I caught" pics. He held it off to the side and said you're not going to get me in a pic with that one.
Later we ended up in the bayous. I love them. They're an endless maze of water running towards the gulf. It always amazes me how swift the water runs in some of the cuts. There were a couple where you knew the fish had to be stacked up catching bait as it blew out but they just weren't there.  In his last spot someone had already beat us there. They seemed to be pulling in fish hand over fist.
Well, the day was up and I had to run to my next appointment. A strong Northeast wind had blown in and made for tough fishing. Besides that the temp was down to 52 degrees when we jumped on the water. That's cool for Louisiana.
I learned a long time ago that if you're only happy when you limit out then you're only going to be happy about 20 percent of the time. I refuse to let circumstances dictate if I'm happy or not. Nick and I had a good time and had gotten to talk a lot about bow hunting. Sounds like his dad is an unbelievable long-range shooter, and I got to watch Nick fish and learned a lot of new tricks and got to see a part of Louisiana that I never had fished. It'd been a great day. And besides that, I'm the one doing the writing and no one has to know that Nick boated six times the amount of fish that I did.