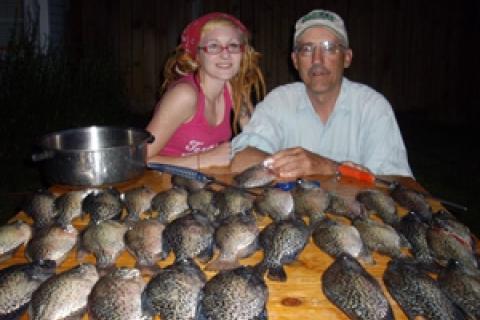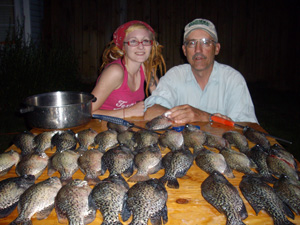 At least for me, crappie fishing kicks off the fishing season for the year. It's hard juggling my spring season with bear and turkey hunting opening, morels are out and when the crappie fishing lights up it's time to hit the lake.
Crappie fishing is a blast. What's not to like? You catch a ton of fish. They're great eating and it's a kid's perfect sport. Usually the weather is OK (maybe still a little unsettled in Idaho and Oregon with spring showers).
The last few years my daughter has been my crappie fishing buddy. It's a great event to take your kids on. You'll catch a ton of fish and they can catch a few rays.
OK, so you're sold. What next. Let's first talk about bait/lures. As a kid in Texas, the go-to set-up was minnows. We'd go stay with granddad every summer and he'd take me and my brother on my uncle's ponds fishing with minnows. I still think that minnows are the best crappie bait but a lot of states won't let you use minnows for fear of transferring in carp minnows.
You will catch more fish if you use lighter line. I always say if I'm not catching them, to go lighter. Tenis better than 12-pound test and 6 is better than 8 pound. Same with weights. A split shot is better than a heavy weight. The minnow will be able to be more active and when the fish picks up your bait the weight won't make it feel unreal.
But by far I'd have to say that the most popular lure nowadays though are jigs. You'll want a jig head that is big enough to cast, handle whatever water current you have to deal with and so forth but again, I think a lighter one is best.
In Idaho/Oregon we use a lot of tube jigs. Fifty years ago yellow was the spring color. Maybe we were just stuck in our ways because now we use all kinds of colors. A few years ago all that I could catch anything on was black/white jigs. It seems to change every year as to what is effective, at least for me.
Last year when I was in Texas fishing with the Lake Fork Trophy Lure boys of course we used LFTL equipment. They have slotted bodies and with very, very minimal water movement they'll shimmer. I fell in love with their plastics and use them a lot now. They have some super good crappie guides and they taught me a lot. They have a different knot that they use that has a loop so it allows the jig to hang more naturally. Of course I've forgotten how to tie it so someday I have to grab my daughter and run back down for a refresher course!
When's the best fishing? The most popular time is in the spring. Right now! Every locale will employ different methods. In Texas we fished for them in the willows when the spring rains caused the lake to flood up in the bays and sloughs.
In Nebraska we fished for them literally a foot off the bank in the trees and brush piles. We'd slaughter them there in the spring. We'd also pick up some decent northern pike, which I assume were up in there feeding on crappie. Ha, we've got competition.
In Idaho and Oregon we'll catch them right off the bank. My first crappie trip in Oregon though we'd throw a jig out about 20 feet from the bank 18 inches below the bobber. The action of the waves would incite them to strike. For whatever reason I catch a lot more fish when I use a small pencil bobber. I don't know why a regular bobber would matter but it does.
Well, get out and enjoy the spring and catch a mess of crappie. They're one of the best fresh water fish to eat, second only to walleye.