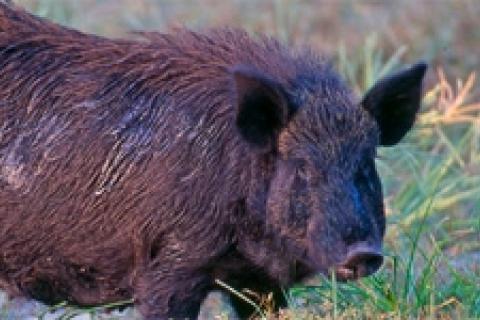 I love going to different parts of the country and seeing what they have to offer. As far as I've seen, every state has its own beauty. I like to meet the farmers and ranchers and see how they operate. With that said, I feel like I got to tour what has to be one of the coolest parts of Florida.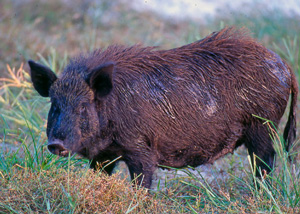 According to WildFlorida.com, Spanish settlers first brought pigs to Florida in 1539, making Florida one of the earliest states and quite possibly the first state in the continental US to have a feral pig population.
(Photo courtesy of w
ildflorida.com)
I met the rancher one morning. I'd been out hunting until late the night before with another buddy so I was having a good week. Laurent asked me if I wanted to hunt with dogs or my rifle. I told him I could have fun either way.


A hurricane had been supposed to hit. It had fizzled through but had still dumped 7-inches of rain on us in about 17 hours, so there was a lot of standing water. His ranch is somewhat surrounded by sheet water.


We drove out and checked out some of his pastures. As you can imagine there were water pools one to two feet deep.


The first group of hogs I handed the rifle to Laurent and he fired off a few shots. Then the next couple of hogs we saw were out in the marshy grass about 400 yards. He shot a couple of times and I thought I rolled one but it was hard to tell in the tall grass. He got at least two shots. Wow, it was a hunting paradise. While looking at the two hogs a few more appeared and then we saw another group as well.


We then moved to another pasture and saw some more. One of the other kids shot a couple of times as well. By now I was running low on ammo! I know you'll laugh but I felt like I was in Jurassic Park. There was game everywhere. We'd jump deer and little bands of hogs all over. We crossed one small flow with a culvert and stopped. The water wasn't probably over 4 feet deep. Along the grassy edge was 5-8 little alligators probably 16 inches long. Laurent said I'd better watch it, there was a 7-foot momma here the other day. In the heat of the day he'd seen 40-50 adult alligators.


I figure I could have shot 10 hogs with my .338 and 15 if I had of had my AR that morning in one hour and 45 minutes. With some fast shooting you probably could of at least rolled four in some of the herds. Laurent asked if I wanted to hunt with the dogs now. Sure, I'm game.


We pulled up to an area that looked somewhat like the Serengeti and let the dogs out. For this hunt we'd thrown in three Black Mouth Curs but had left the kill dog at home. They ran along smelling and we followed in the 4-person Ranger ATV. Suddenly two of the dogs busted a hog and the race was on.


I wish I had of had my video camera. It was awesome. The hog in the lead and the two dogs right on his heels running through the swamp. Water was splashing and it would have been an awesome pic. They soon caught up with him and closed in. They were chomping on his jowls and ears and finally got a lock on him.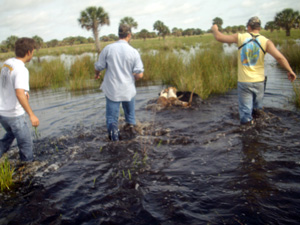 Dogs zero in on a wild hog in a Florida swamp.
We ran towards the melee and one of the kids, quick as a cat, reached down and snapped up his hind legs and drug him across the swamp back to the Ranger. We opened the door on one of the kennels and threw him in.
We went back and located the other dog and went to another pasture. Off not 50-75 yards we saw a hog feeding. Wow, they weren't even spooky. I'm used to hogs scattering. All the herds we had shot at so far allowed enough time for multiple shots.


We got out, opened the kennels and threw the dogs out. We pulled ahead a little and the dogs trotted along. It took them a minute to get a missile lock but then they spotted the hog and bolted. Suddenly it turned from one pig to 4-6. They shot by one poor little guy that was running for his life. As soon as they passed he veered to the right and escaped in the grass.


For whatever reason they locked in on a bigger one out in front and the race was on.


They ran him for a minute and then caught up and locked in on him. We grabbed him by the back legs, kicked the dogs off and loaded him up too. Wow, unbelievable. This was the best day in the world.


We then headed to another spot and a smaller pig ran out in the pasture beside us. I started to shoot it but he said that we were near a neighbor's ranch house so we ought to pass. We got down to a drier area and saw a trap. He had a nice calico boar in it and he was hot. He'd charge the fence trying to drill us and hit it hard. He had a sour mood. He bloodied his nose trying to get to us.


Laurent said let's throw the two hogs over with him and I'll come back later and grab them all. He opened the kennel door slightly and they set there snapping their teeth at us. He told one of the kids to get ready. "We're going to grab them by their front legs and drag them out." Whoa, this was about to be a rodeo. Someway they grabbed one of the hogs out of the kennel without getting ripped to shreds and threw him over the fence. In the blink of an eye the boar drilled him and was bouncing him against the wall like a kickball, and he was an 80-90 pound pig. The boar would ram him under the belly and just knock him around like a dish rag. I thought that he was going to kill him. After about4-6 good rams he turned around and left him alone.


We then grabbed the other pig and threw him over as well. Same scenario. Ram the poor little guy then settle down.


After a flat tire cut our day short, we cleaned one of the hogs they'd shot and I loaded up to head out.


 I'm already working on a deal to go back.